for Monday, 26 September 2011 [9:45 AM PhT]



---
<<<Typhoon2000.com Mobile >>>
Get the latest 3-hrly SMS Storm Alerts on PEDRING!
For more details: Text T2K TYPHOON to
2800 (Globe/TM) | 216 (Smart/TNT) | 2288 (Sun)
*Only P2.50 (Smart/Globe) / P2.00 (Sun) per msg received.
Click here
on how to use this service (in PDF file)
Powered by:
Synermaxx Corporation
---
Typhoon2000 (T2K) NEWS (Saturday Sep 24 2011):



Currently issuing 3-hrly web, email, & android (iTyphoon) updates (except 12:00 Midnight) on NESAT (PEDRING).
---
NESAT (PEDRING) MAX WIND SPEED PER AGENCY:



+ USA (JTWC/1-min avg): 150 km/hr
+ Japan (JMA/10-min avg): 130 km/hr
+ Philippines (PAGASA/10-min avg): 110 km/hr
+ Beijing (NMC/2-min avg): 120 km/hr
+ Taiwan (CWB/10-min avg): 105 km/hr
+ Korea (KMA/10-min avg): 140 km/hr
+ Hong Kong (HKO/10-min avg): 110 km/hr
:: Click here to see Multi-Agency Forecast Tracks
---
TYPHOON NESAT [PEDRING/20W/1117]
T2K INTERMEDIATE PUBLIC ADVISORY NUMBER 010A
9:00 AM PhT (01:00 GMT) Mon 26 September 2011Source: T2K Analysis/JTWC TC Warning #010/SatFixes
View: Advisory Archives (2004-2011)
---
Typhoon NESAT (PEDRING) has quickly moved WNW as it intensifies...may reach Aurora earlier than forecasted...Outer rainbands continues to spread across Eastern-Central-Southern Luzon, Metro Manila, Bicol Region and Samar Provinces.
Projected Landfall Area (PLA)
: Aurora on Tuesday early morning...with possible entry point Casiguran.
Residents and visitors along Luzon particularly Northern Bicol, Northern Quezon, Aurora & Isabela should closely monitor the progress of NESAT (PEDRING).
Do not use this for life or death decision. This advisory is intended for additional information purposes only. Kindly refer to your country's official weather agency for local warnings, advisories & bulletins.
CURRENT STORM INFORMATION
Time/Date: 9:00 AM PhT Sun September 25 2011
Location of Eye: 15.3º N Lat 125.5º E Lon
Distance 1: 193 km NE of Pandan, Catanduanes
Distance 2: 235 km NE of Virac, Catanduanes
Distance 3: 304 km NNE of Legazpi City
Distance 4: 310 km ENE of Daet, CamNorte
Distance 5: 311 km NE of Metro Naga/CWC
Distance 6: 377 km ESE of Casiguran, Aurora
Distance 7: 412 km ENE of Infanta, Quezon
Distance 8: 490 km ENE of Metro Manila
MaxWinds (1-min avg): 150 kph (80 kts) near the center
Peak Wind Gusts: 185 kph (100 kts)
Present Movement: WNW @ 28 kph (15 kts)
Towards: Aurora Area
CPA [ETA] to Aurora: Tuesday Morning [2-4am PhT]
24hr Rainfall Accum (near center): 350 mm (High)
Rainrate (near center): 15-20 mm/hr (Moderate)
Minimum Central Pressure: 963 millibars (hPa)
Saffir-Simpson Typhoon Scale: Category 1
Size (in Diameter): 835 km (450 nm) [Large]
Wind Area Distribution (in Knots): Current Wind Profile
Max Sea Wave Height (near center): 26 ft
Possible Storm Surge Height: 4-5 ft [1.2-1.7 m]
T2K TrackMap (for Public): 6 AM PhT Mon Sep 26
_____________________________________________________________________________
TYPHOON2000 CURRENT STORMTRACK: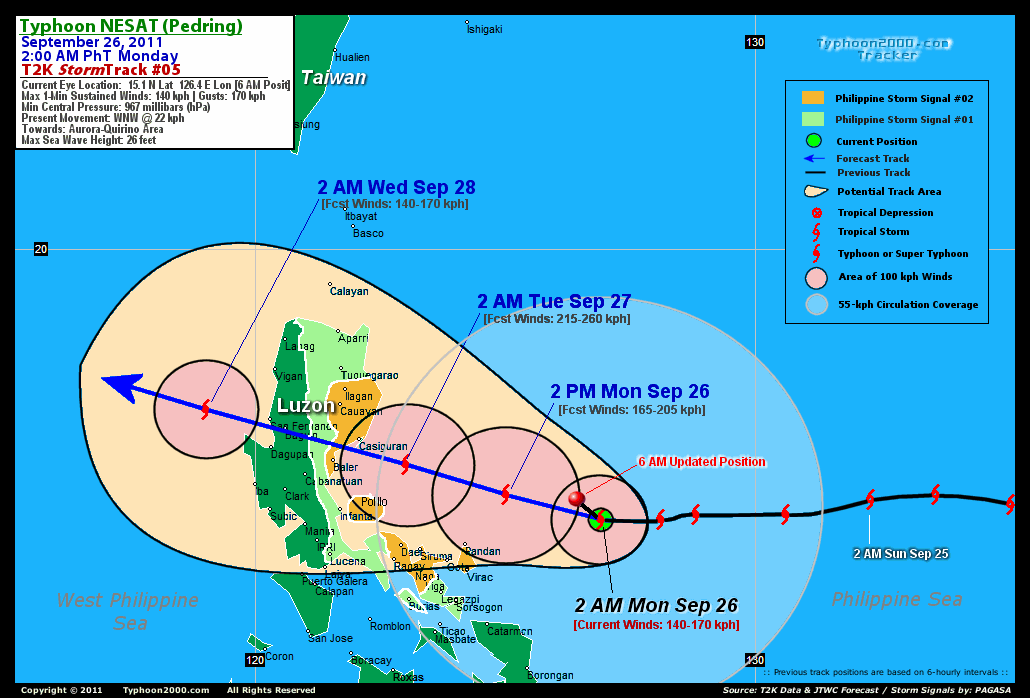 _____________________________________________________________________________

NOTE:
---
Copyright © 2011 Typhoon2000.com     All Rights Reserved
__._,_.___
.
__,_._,___