for Wednesday, 28 September 2011 [8:30 AM PhT]



---
<<<Typhoon2000.com Mobile >>>
Get the latest 6-hrly SMS Storm Alerts on QUIEL!
For more details: Text T2K TYPHOON to
2800 (Globe/TM) | 216 (Smart/TNT) | 2288 (Sun)
*Only P2.50 (Smart/Globe) / P2.00 (Sun) per msg received.
Click here
on how to use this service (in PDF file)
Powered by:
Synermaxx Corporation
---
Typhoon2000 (T2K) NEWS (Wednesday Sep 28 2011):



Currently issuing 6-hrly web, email, & android (iTyphoon) updates (except 12:00 Midnight) on NALGAE (QUIEL).
---
NALGAE (QUIEL) MAX WIND SPEED PER AGENCY:



+ USA (JTWC/1-min avg): 100 km/hr
+ Japan (JMA/10-min avg): 100 km/hr
+ Philippines (PAGASA/10-min avg): 105 km/hr
+ Beijing (NMC/2-min avg): 75 km/hr
+ Taiwan (CWB/10-min avg): 100 km/hr
+ Korea (KMA/10-min avg): 110 km/hr
+ Hong Kong (HKO/10-min avg): 75 km/hr
:: Click here to see Multi-Agency Forecast Tracks
---
TROPICAL STORM NALGAE [QUIEL/22W/1119]
T2K PUBLIC ADVISORY NUMBER 001
6:00 AM PhT (22:00 GMT) Thu 29 September 2011Source: T2K Analysis/JTWC TC Warning #007/SatFixes
View: Advisory Archives (2004-2011)
---
The small but tenacious Tropical Storm NALGAE (a Korean word for "wing") over the Western Pacific Ocean - has entered the Philippine Area of Responsibility (PAR), now locally known as QUIEL...tracking west to west-southwestward during the past 12 hours. Initial Forecast Projection shows a passage across the shores of Extreme Northern Luzon on Sunday.
Residents and visitors along Northern Luzon should closely monitor the progress of NALGAE (QUIEL).
Do not use this for life or death decision. This advisory is intended for additional information purposes only. Kindly refer to your country's official weather agency for local warnings, advisories & bulletins.

CURRENT STORM INFORMATION

Time/Date: 6:00 AM PhT Thu September 29 2011
Location of Center: 18.5º N Lat 134.6º E Lon
Distance 1: 1339 km ESE of Basco, Batanes
Distance 2: 1351 km ENE of Casiguran, Aurora
Distance 3: 1360 km East of Aparri, Cagayan
Distance 4: 1367 km ENE of Tuguegarao City
Distance 5: 1502 km ENE of Metro Manila
MaxWinds (1-min avg): 100 kph (55 kts) near the center
Peak Wind Gusts: 130 kph (70 kts)
Present Movement: West @ 11 kph (06 kts)
Towards: Extreme Northern Luzon
24hr Rainfall Accum (near center): 220 mm (High)
Rainrate (near center): 15-20 mm/hr (Light-Mod)
Minimum Central Pressure: 982 millibars (hPa)
Saffir-Simpson Typhoon Scale: Tropical Storm
Size (in Diameter): 390 km (210 nm) [Average]
Wind Area Distribution (in Knots): Current Wind Profile
Max Sea Wave Height (near center): 17 ft
Possible Storm Surge Height: 1-3 ft [0.3-0.9 m]
T2K TrackMap (for Public): 6 AM PhT Thu Sep 29

3-DAY FORECAST OUTLOOK & ANALYSIS*

NALGAE (QUIEL) will continue to move generally westward with increasing forecast speed throughout the forecast period. On the forecast track, the core of the storm will traverse the shores of Cagayan and Ilocos Norte on Sunday, Oct 02.

Maximum Sustained Winds (1-min. avg) have increased to near 100 km/hr (55 knots) with higher gusts. Additional strengthening is forecast during the next 72 hours...and NALGAE could become a Typhoon later today. This cyclone is a Tropical Storm on the Saffir-Simpson Tropical Cyclone Scale.

Tropical Storm Force Winds (62-117 km/hr) extend outward up to 165 kilometers (90 nautical miles) from the center. NESAT is now an average-sized tropical cyclone with a diameter of 390 kilometers (210 nautical miles).

The following is the summary of the 3-day forecast outlook on this system:



FRIDAY EARLY MORNING:  Upgraded to a Category 1 Typhoon as it moves west across the North Philippine Sea [2AM SEP 30: 18.4N 131.7E @ 130kph].


SATURDAY EARLY MORNING:  Approaching Category 2 strength as it accelerates towards Extreme Northern Luzon [2AM OCT 01: 18.5N 127.9E @ 150kph].


SUNDAY EARLY MORNING:  Strengthens into a Category 2 Typhoon...approaching the coast of Northern Cagayan...about 211 km East of Aparri, Cagayan [2AM OCT 02: 18.5 123.6E @ 165kph].

*Please be reminded that the Forecast Outlook changes every 6 hours, and the Day 3 Forecast Track have an average error of 250 km...while the wind speed forecast error, averages 35 kph per day. Therefore, a turn to the left or right of its future track and changes in its wind speed must be anticipated from time to time.

EFFECTS & HAZARDS SUMMARY

NALGAE's (QUIEL's) compact circulation has increased in size as it barrels westward across the North Philippine Sea. Below is the summary of the storm's parts and its hazards affecting specific areas:



CENTRAL DENSE OVERCAST (CDO) - over water (North Philippine Sea)...possible "Eye" forming underneath the cirrus canopy. Near-Typhoon Conditions w/ Near-Typhoon Force Winds (100-130 kph) will be expected along the CDO. (click here to know more about CDO).


INNER RAINBANDS - over water (North Philippine Sea)...not yet affecting any land areas. Tropical Storm Conditions w/ Tropical Storm Force Winds (62-117 kph) will be expected along these bands.


OUTER RAINBANDS - over water (North Philippine Sea)...not yet affecting any land areas. Tropical Depression Conditions w/ moderate to strong winds (25-61 kph) will be expected along these bands (click here to know more about Rainbands).


24HR TOTAL RAINFALL ACCUMULATION - from 5 up to 100 mm (low to high rainfall) can be expected along areas affected by the outer & inner rainbands (see above)...with isolated amounts of 101 to 220 mm (high) along areas near the center of NALGAE (QUIEL). (click to open NOAA's eTRaP graphic).
Important Note: Please keep in mind that the above forecast outlook, effects-hazards, current monsoon intensity, & tropical cyclone watch changes every 6 to 12 hrs!



---
External Links for TS NALGAE (QUIEL)PAGASA@Twitter: Hourly Updates
View NOAA-CIRA's: Latest Full Wind Analysis
JTWC Latest Tracking Chart: wp2211.gif
Multi-Agency Forecast TrackMap: Near Real-Time
TSR Wind Probabilities: Current to 5 Days Ahead
JAXA TRMM Page: Latest Rainrate (in mm/hr)
Zoomed Satellite Pic: NOAA's Near Real-Time
Wunderground Animation: 6-12 hr. GIF Loop
_____________________________________________________________________________
TYPHOON2000 CURRENT STORMTRACK: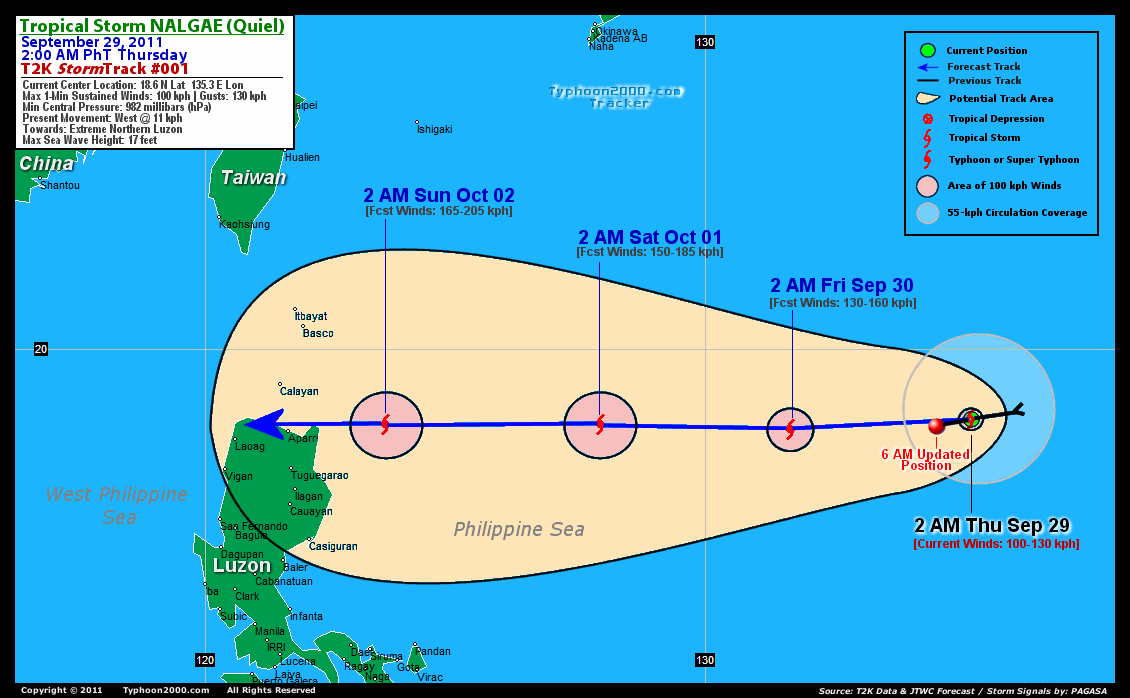 _____________________________________________________________________________

NOTE:
---
Copyright © 2011 Typhoon2000.com     All Rights Reserved
__._,_.___
.
__,_._,___