for Monday, 25 July 2011 [7:08 AM PhT]


---
<<<Typhoon2000.com Mobile >>>

Get the latest 3-hrly SMS Storm Alerts on 10W!
For more details: Text T2K TYPHOON to
2800 (Globe/TM) | 216 (Smart/TNT) | 2288 (Sun)
*Only P2.50 (Smart/Globe) / P2.00 (Sun) per msg received.
Click here
on how to use this service (in PDF file)
Powered by:
Synermaxx Corporation
---
Typhoon2000 (T2K) NEWS (Monday July 25 2011):



Now initiating the 3-hrly web, twitter and e-mail updates (except 12:00 Midnight & 3:00 AM) on 10W (UNNAMED).
---
10W (UNNAMED) MAX WIND SPEED PER AGENCY:



+ USA (JTWC/1-min avg): 45 km/hr
---

TROPICAL DEPRESSION 10W [UNNAMED]
T2K PUBLIC ADVISORY NUMBER 001 6:00 AM PhT (22:00 GMT) Mon 25 July 2011Source: T2K Extrap Analysis/JTWC Warning #001/SatFixesView: Advisory Archives (2004-2011)
---
The strong Tropical Disturbance (93W/LPA) off the Philippine Sea, east of Northern Samar is now Tropical Depression 10W (UNNAMED)...threatens the coastal areas of Bicol Region and Eastern Luzon. Its developing, outer rainbands are now spreading across Samar and Bicol.
Residents and visitors along the Bicol Region, Southern and Eastern Luzon should closely monitor the progress of 10W (UNNAMED).
Do not use this for life or death decision. This advisory is intended for additional information purposes only. Kindly refer to your country's official weather agency for local warnings, advisories & bulletins.
CURRENT STORM INFORMATION
Time/Date: 6:00 AM PhT Mon July 25 2011
Location of Center: 12.8º N Lat 128.3º E Lon
Distance 1: 405 km (218 nm) ENE of Catarman, N.Samar
Distance 2: 450 km (242 nm) ESE of Virac, Catanduanes
Distance 3: 465 km (250 nm) ESE of Sorsogon City
Distance 4: 500 km (270 nm) ESE of Legazpi City
Distance 5: 560 km (303 nm) ESE of Metro Naga/CWC
MaxWinds (1-min avg): 45 kph (25 kts) near the center
Peak Wind Gusts: 65 kph (35 kts)
Present Movement: WNW @ 13 kph (07 kts)
Towards: Isabela-Cagayan Area
Minimum Central Pressure: 1002 millibars (hPa)
Saffir-Simpson Typhoon Scale: Tropical Depression
Size (in Diameter): ... km (... nm) / N/A
Possible Storm Surge Height: 0 ft [0 m]
T2K TrackMap (for Public): 6:00 AM PhT Mon July 25
FORECAST OUTLOOK ANALYSIS (up to 2 days)*

10W (UNNAMED) is expected move slowly WNW to NW'ly within the next 12 to 24 hours, and shall reach Tropical Storm (TS) threshold tomorrow. It shall be off coast of Cagayan-Isabela Area on Wednesday early morning with forecast wind speeds of almost 100 km/hr. Below is the summary of the 2-day forecast for this system.



THIS AFTERNOON (MON): Moving NW-ward approaches the east coast of Catanduanes Island...about 215 km East of Guigmoto, Catanduanes [2PM JUL 25: 13.8N 126.3E @ 55kph].


TOMORROW EARLY MORNING (TUE): Upgraded to TS, passing well to the NE of Catanduanes Island...about 135 km NE of Pandan, Catanduanes [2AM JUL 26: 14.7N 125.3E @ 75kph].


TOMORROW AFTERNOON (TUE): Intensifying while still over the Philippine Sea, tracking NW-ward...about 235 km East of Casiguran, Aurora [2PM JUL 26: 16.1N 124.3E @ 85kph].


WEDNESDAY EARLY MORNING: Strengthens to a Severe Tropical Storm as it nears the east coast of Northern Isabela & Eastern Cagayan...about 150 km East of Tuguegarao City [2AM JUL 27: 17.6N 123.1E @ 95kph].

Maximum Sustained Winds (1-min. avg) are near 45 km/hr (25 knots) with higher gusts. 10W (UNNAMED) is a Tropical Depression (TD) on the Saffir-Simpson Tropical Cyclone Scale. Some additional strengthening will be expected later today.
10W's (UNNAMED) CLOSEST POINT OF APPROACH (CPA)*



NORTHEASTERN CATANDUANES: About 140 km NE of Guigmoto [ETA: between 12:00 to 3:00 AM PhT early tomorrow].


NORTHEASTERN TIP OF CAGAYAN: Making landfall along Escaparda Point or just to the NE of Mount Gonzaga...about 55 km East of Aparri, Cagayan [ETA: between 12:00-1:00 PM PhT Wednesday].
EXTENDED FORECAST TRACK (3 to 5 days)*



THURSDAY EARLY MORNING: At near-Typhoon strength...moving away from the Balintang Channel and into the West Philippine Sea (South China Sea) [2AM JUL 28: 19.4N 121.1E @ 100kph].


FRIDAY EARLY MORNING: Moving WNW across the South China Sea...approaching the coast of Southern China...weakens slightly [2AM JUL 29: 21.4N 117.9E @ 85kph].


SATURDAY EARLY MORNING: Downgraded into a weak Tropical Depression (TD) after making landfall over Southern China, just to the east of Hong Kong [2AM JUL 30: 23.2N 114.4E @ 45kph].

**Alternate Forecast Scenario (AFS): There is a possibility that 10W will continue moving WNW-ward and cross Central & Northern Luzon on Wednesday...making landfall near Casiguran, Aurora - if the strong High Pressure Steering Ridge NE of 10W extends westward.

*Please be reminded that the Forecast Outlook changes every 6 hours, and the Extended Forecast Track have an average error of 250 km on Day 3...450 km on Day 4...and 650 km on Day 5, while the wind speed forecast error, averages 35 kph per day. Therefore, a turn to the left or right of its future track and changes in its wind speed must be anticipated from time to time.
EFFECTS & HAZARDS SUMMARY

10W's (UNNAMED) circulation continues to consolidate with most of its rain-bearing convective outer bands along the western & southern portions of the Low-Level Circulation Center (LLCC). Below is the summary of the storm's parts and its hazards affecting specific areas:



WESTERN & SOUTHERN RAINBANDS - spreading & affecting Bicol Region & Samar Provinces. Near-Tropical Depression Conditions w/ light to moderate winds (15-40 kph) can be expected along these bands (click here to know more about Rainbands).
TROPICAL CYCLONE WATCH

Tropical Disturbance 94W (LPA/1005 MB) spotted off Micronesia, continues to consolidate and is likely to develop into another Tropical Cyclone within the next 1 to 2 days. Its possible center was located near lat 5.7N lon 147.8E...about 915 km SSE of Guam, CNMI...with 1-min maximum sustained winds of 35 kph near the center. The 24-Hr. Tropical Cyclone Formation Potential on this system is now at 60% [High]. View the latest satellite flash loop on this disturbance.
CURRENT SW MONSOON INTENSITY: STRONG >> Cloudy skies with possible occasional showers, rains, squalls & thunderstorms will be expected along the following affected areas: PALAWAN, VISAYAS & NORTHERN MINDANAO. Light to moderate SW'ly winds (not in excess of 40 kph) will blow.
Important Note: Please keep in mind that the above forecast outlook, extended forecast, effects-hazards, current monsoon intensity, & tropical cyclone watch changes every 6 to 12 hrs!
---
JTWC (US NAVY & AIR FORCE) REMARKS:

REMARKS (for Meteorologists): 2 AM (18 GMT) MON 25 JULY POSITION: 12.9N 127.5E.
*TROPICAL DEPRESSION 10W, LOCATED APPROXIMATELY 400 NM SOUTH-SOUTHEAST
OF MANILA, PHILIPPINES, HAS TRACKED WEST-NORTHWESTWARD AT 07 KNOTS OVER
THE PAST SIX HOURS. ANIMATED INFRARED SATELLITE IMAGERY (MSI) SHOWS
CONVECTION INCREASING AND CONSOLIDATING AROUND THE LOW LEVEL
CIRCULATION CENTER (LLCC). THE 241200Z PGTW UPPER LEVEL STREAMLINE
ANALYSIS REVEALS THAT THE LLCC EXISTS IN A MODERATELY DIFFLUENT
REGION POLEWARD OF THE NEAR EQUATORIAL RIDGE AXIS. VERTICAL WIND
SHEAR HAS EASED FROM TO 10-15 KNOTS, AND ANIMATED WATER VAPOR
IMAGERY INDICATES THAT SUPPRESSION OF POLEWARD OUTFLOW BY THE
TROPICAL UPPER TROPOSHERIC TROUGH (TUTT) IS ALSO EASING. GOOD
POTENTIAL EXISTS FOR A SMALL CELL WITHIN THE TUTT TO LINK WITH THE
SYSTEM AND FACILITATE FORMATION OF A POLEWARD OUTFLOW CHANNEL WITHIN
THE NEXT 24 HOURS. EQUATORWARD OUTFLOW IS WELL ESTABLISHED. SEA
SURFACE TEMPERATURES EXCEED 30 DEGREES. A 241154Z AMSRE IMAGE
REVEALS THICK CURVED BANDING ON THE EQUATORWARD SIDE OF THE LLCC,
WITH PERSISTENT AND INCREASING DEEP CONVECTION OVER THE NORTHWEST
QUADRANT. SURFACE REPORTS ALONG THE COAST OF SAMAR AND SOUTHERN
LUZON ARE CONSISTENT IN SHOWING LIGHT OFF-SHORE FLOW AND PRESSURES
CORRESPONDING TO 20 TO 25 KNOT WINDS OVER OPEN WATERS. A 241317Z
ASCAT IMAGE SHOWS A CLEARLY DEFINED LLCC WITH WINDS EXCEEDING 20
KNOTS IN ALL BUT THE EASTERN QUADRANT. TD 10W IS CURRENTLY IN A WEAK
STEERING ENVIRONMENT, TRACKING THROUGH A WEAKNESS SOUTHWEST OF THE
SUBTROPICAL RIDGE (STR). THE STR IS ANCHORED BY AN ANTICYCLONE NEAR
35N 160E. THE ANTICYCLONE IS RETROGRADING SOUTHEAST AND WILL PROVIDE
MORE FORCEFUL STEERING TO THE SYSTEM IN THE MEDIUM TERM, WHICH WILL
FORCE IT ON A MORE WESTERLY TRACK AS IT APPROACHES THE LUZON STRAIT
(BETWEEN TAU 48 AND 72). WHAT MODEL GUIDANCE IS AVAILABLE SO FAR IS
NOT IN GOOD AGREEMENT. THE JTWC FORECAST USES CONSTANT BEARING AND
SPEED FROM THE CURRENT BEST TRACK POSITION FOR THE FIRST 48 HOURS,
WHICH COMES OUT BEING CLOSE TO THE NOGAPS VORTEX TRACKER AND THE
ECMWF DETERMINISTIC MODEL. CONSENSUS IS BEING PULLED EQUATORWARD BY
GFS AND THE BAROTROPIC MODEL. THE BEST TRACK POSITION IS BASED
HEAVILY ON THE ASCAT IMAGE AND IS OF GOOD CONFIDENCE. THE INTENSITY
ASSESSMENT IS ALSO BASED HEAVILY ON THE ASCAT IMAGE, AS WELL AS A
DVORAK ESTIMATE OF 20 KNOTS FROM PGTW. THE INTENSITY FORECAST STAYS
ABOVE MODEL GUIDANCE DUE TO THE HISTORICALLY FERTILE GROUNDS OF THE
PHILIPPINE SEA AND THE EXPECTATION OF AN OVERALL DECREASE IN
VERTICAL WIND SHEAR...(
more info
)

_______________________________________________________________________________________________________________________________________


RECENT TYPHOON2000.COM (JTWC) TRACKING CHART
: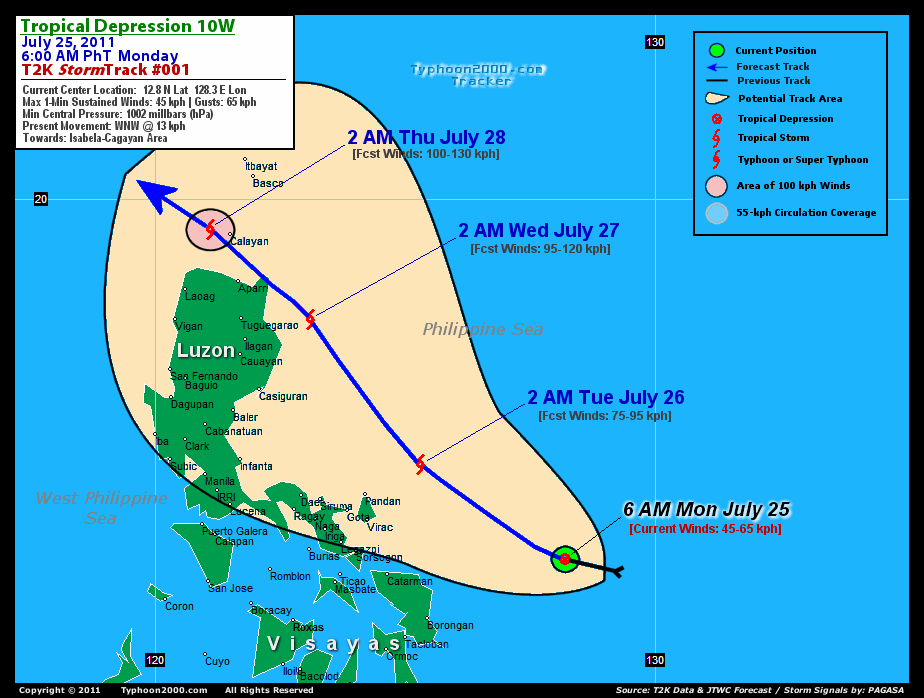 _________________________________________________________________________________________________________________
RECENT MULTI-AGENCY TROPICAL CYCLONE FORECAST TRACKING CHART:

**NOT YET AVAILABLE**
_________________________________________________________________________________________________________________
RECENT MTSAT-2 "DAY & NIGHT VISION" SATELLITE IMAGE

:

> Image source: NOAA SATELLITE CENTER:
http://www.ssd.noaa.gov/mtsat/flt/t1/rgb.jpg
____________________________________________________________________________________________________________________

RECENT WUNDERGROUND SATELLITE ANIMATION
:
> Image source: Wunderground.com Tropical Page (
http://www.wunderground.com/tropical
)
____________________________________________________________________________________________________________________
____________________________________________________________________________________________________________________
NOTE:
* - JTWC commentary remarks (for Meteorologists) from their latest warning.
---
Copyright © 2011 Typhoon2000.com All Rights Reserved
__._,_.___
.
__,_._,___