for Thursday, 21 October 2010 [8:40 AM PhT]



---
<<<Typhoon2000.com Mobile >>>

Get the latest SMS Storm Alerts!
For more details: Text T2K HELP to
2800 (Globe/TM) | 216 (Smart/TNT) | 2288 (Sun)
*only P2.50 (Smart/Globe) / P2.00 (Sun) per msg received.
powered by:
Synermaxx
---
Typhoon2000 (T2K) NEWS (Thursday Oct 21 2010):



Ending the 6-hrly SMS updates on MEGI (JUAN), as the system exits PAR...while the 6-hrly web and e-mail updates continues.
---
MEGI (JUAN) MAX WIND SPEED PER AGENCY:



+ USA (JTWC/1-min avg): 185 km/hr
+ Japan (JMA/10-min avg): 165 km/hr
+ Philippines (PAGASA/10-min avg): 175 km/hr
+ Korea (KMA/10-min avg): 160 km/hr
+ Taiwan (CWB/10-min avg): 170 km/hr
+ Beijing (NMC/2-min avg): 185 km/hr
+ Hong Kong (HKO/10-min avg): 175 km/hr
---
TYPHOON MEGI [JUAN/15W/1013]
T2K E-MAIL ADVISORY NUMBER 025 6:00 AM PhT (22:00 GMT) Thu 21 October 2010Sources: T2K Extrap Analysis/JTWC Wrng #032/SatFixes View: Advisory Archives (2004-2010)
---
Typhoon MEGI (JUAN) has been downgraded to Category 3 while moving into an area of increasing unfavorable environment (high vertical wind shear). The system will continue to decay until it makes landfall over Southeastern China on Saturday. Its outer rainbands are still affecting parts of Luzon particularly the western coast.
Residents and visitors along Southern & Southeastern China and Taiwan should closely monitor the progress of MEGI (JUAN).
Do not use this for life or death decision. This advisory is intended for additional information purposes only. Kindly refer to your country's official weather agency for local warnings, advisories & bulletins.
CURRENT STORM INFORMATION

Time/Date: 6:00 AM PhT Thu Oct 21 2010
Location of Eye: 19.1º N Lat 117.5º E Lon
Distance 1: 340 km (183 nm) WNW of Laoag City
Distance 2: 350 km (190 nm) NW of Vigan City
Distance 3: 485 km (262 nm) SSE of Shantou, China
Distance 4: 485 km (262 nm) SE of Hong Kong
Distance 5: 495 km (267 nm) WSW of Basco, Batanes
Distance 6: 495 km (267 nm) SW of Kaohsiung, Taiwan
MaxWinds (1-min avg): 185 kph (100 kts) near the center
Peak Wind Gusts: 230 kph (125 kts)
Present Movement: NNE @ 09 kph (5 kts)
Towards: Southeastern China (Guangdong-Fujian Border)
24-hr Total Rainfall (near center): 350 mm (Heavy)
Minimum Central Pressure: 945 millibars (hPa)
Saffir-Simpson Typhoon Scale: Category 3
Size (in Diameter): 1,000 km (540 nm) / Very Large
Max Sea Wave Height (near center): 38 ft (11.5 m)
Possible Storm Surge Height: 9-12 ft [2.7-3.9 m]
T2K Final TrackMap #015 (for Public): 6 AM PhT Thu Oct 21
ANALYSIS & FORECAST OUTLOOK (up to 48 hours)*

MEGI maintains a large organized circulation, with deep rain convection especially along the southern side and a ragged banding eye as seen on satellite imageries. The typhoon is expected to continue moving northward slowly towards Southeastern-Southern China Area within the next two days. MEGI is now forecast to slowly decay as it approaches and make landfall along the shores of Southern Fujian, just to the east of Hong Kong on Saturday (Oct 23) [2AM OCT 22: 20.8N 118.0E @ 165kph...2AM OCT 23: 23.2N 117.7E @ 110kph].

Maximum Sustained Winds (1-min. avg) have decreased to near 185 km/hr (100 knots) with higher gusts. MEGI is a Category 3 Typhoon on the Saffir-Simpson Tropical Cyclone Scale. Typhoon Force Winds (118 km/hr or more) extend outward up to 120 kilometers (65 nautical miles) from the center...and Tropical Storm Force Winds (62-117 km/hr) extend outward up to 335 kilometers (180 nautical miles). MEGI remains a very large-sized tropical cyclone, measuring about 1,000 kilometers (540 nautical miles) across.
EXTENDED FORECAST TRACK (3 to 4 days)*



SUNDAY EARLY MORNING: Dissipating along the Guangdong-Fujian border as MEGI moves further inland [2AM OCT 24: 24.4N 116.6E @ 85kph].


MONDAY EARLY MORNING: Near dissipation...just an area of low pressure along the Guangdong-Fujian-Jiangxi border. [2AM OCT 25: 25.0N 115.6E @ 35kph].

*Please be reminded that the Forecast Outlook changes every 6 hours, and the Extended Forecast Track have an average error of 250 km on Day 3...450 km on Day 4...and 650 km on Day 5, while the wind speed forecast error, averages 35 kph per day. Therefore, a turn to the left or right of its future track and changes in its wind speed must be anticipated from time to time.
EFFECTS & HAZARDS SUMMARY

MEGI's very large convective circulation is currently showing signs of weakening, but continues to cover a vast area of South China Sea and extends up to Western Luzon and the coastal areas of Southern and Southern China and Taiwan



RAGGED EYE - remains over water (South China Sea).


EYEWALL - remains over water (South China Sea).


INNER RAINBANDS - remains over water (South China Sea).


OUTER RAINBANDS - spreading across the western provinces of Luzon (Ilocos, La Union, Benguet, Pangasinan, Zambales, & Bataan) and the Southern and SE coaslines of China including Southern Taiwan. Moderate to strong winds (<55 kph) with passing on-and-off showers, squalls or thunderstorms can be expected along these areas today.


24-HR TOTAL RAINFALL ACCUMULATION - from 5 up to 200 mm (light to heavy rain) can be expected along the outer and inner rainbands...with isolated amounts of up to 350 mm (heavy) near the center of MEGI [view current NOAA's eTRaP graphic].


COASTAL STORM SURGE FLOODING - possible 9 to 12 feet above normal tide levels...accompanied by large and dangerous battering waves can be expected along the coastal and beach front areas of Northwestern Luzon today...and in Guangdong and Fujian Provinces in China beginning tomorrow until Saturday. Extensive damage is likely on this type of storm surge. Danger from large swells and Rip Currents or Rip Tides can be expected along the rest of the beach-front areas of Southern China and Western Luzon in the Philippines today.
TROPICAL CYCLONE WATCH

The strong Tropical Disturbance 95W (LPA/1006 MB) has moved past north of Saipan but is currently not looking healthy. It was located near lat 16.8N lon 143.9E...or about 2,275 km East of Northern Luzon...with 1-min maximum sustained winds of 40 kph near the center...moving WNW @ 22 kph towards the Philippine Sea. The 24 to 48-Hr. Tropical Cyclone Formation Potential on this system is at 85%. Click here to view current satellite image and flash animation. JTWC has issued a Tropical Cyclone Formation Alert (TCFA) on this disturbance.
Important Note: Please keep in mind that the above forecast outlook, extended forecast, effects-hazards, current monsoon intensity, & tropical cyclone watch changes every 6 to 12 hrs!

---

External Links for TY MEGI (JUAN)

View NOAA-CIRA's Latest Wind Analysis
JTWC Latest Tracking Chart: wp1510.gif
Multi-Agency Forecast TrackMap: Near Real-Time
TSR Wind Probabilities: Current to 96 hrs Ahead
NASA-JAXA TMI Page: Latest Rainrate 01
EORC-JAXA TRMM Page: Latest Rainrate 02
Zoomed Satellite Pic: NOAA's Near Real-Time
Wunderground Animation: 6-12 hr. GIF Loop


---
JTWC (US NAVY & AIR FORCE) REMARKS:

REMARKS (for Meteorologists): 2 AM (18 GMT) THU 21 OCTOBER POSITION: 18.8N 117.4E.
*TYPHOON (TY) 15W (MEGI), LOCATED APPROXIMATELY 275 NM SOUTHEAST OF
HONG KONG, HAS TRACKED NORTH-NORTHEASTWARD AT 05 KNOTS OVER THE PAST
SIX HOURS. ANIMATED INFRARED SATELLITE IMAGERY INDICATES THAT TY 15W
HAS CONTINUED TO SLOWLY WEAKEN OVER THE PAST 06 HOURS. HOWEVER, IR
IMAGERY DEPICTS AN INTENSE SYSTEM WITH A BANDING EYE AND A 201737Z
AMSR-E IMAGE DEPICTS A LARGE SYMMETRIC MICROWAVE EYE WITH CONVECTIVE
BANDING OVER THE NORTHWEST QUADRANT. ANIMATED WATER VAPOR IMAGERY
DEPICTS EXCELLENT RADIAL OUTFLOW WITH ENHANCED POLEWARD OUTFLOW
ASSOCIATED WITH A MIDLATITUDE SHORTWAVE TROUGH DEEPENING OVER
SOUTHEAST CHINA. THE 20/12Z 500MB ANALYSIS DEPICTS A SHARP
MIDLATITUDE SHORTWAVE TROUGH OVER EASTERN CHINA WITH WESTERLY FLOW
ACROSS SOUTHEAST CHINA AND A SUBTROPICAL RIDGE POSITIONED EAST OF
THE SYSTEM. OVER THE PAST 24 HOURS, THE DYNAMIC MODELS HAVE BECOME
MORE STABLE AND ARE IN GOOD AGREEMENT THROUGH TAU 48, SUPPORTING THE
POLEWARD TRACK. AFTER TAU 48, TY 15W IS FORECAST TO ENCOUNTER STRONG
VERTICAL WIND SHEAR AND SHOULD WEAKEN RAPIDLY AND DE-COUPLE.
SUBSEQUENTLY, MODEL GUIDANCE DIVERGES AND THERE IS INCREASED
UNCERTAINTY IN THE LATER TAUS. THE CURRENT FORECAST FAVORS A
NORTHWESTWARD TURN INTO CHINA UNDER THE STEERING INFLUENCE OF LOW-
LEVEL NORTHEASTERLY FLOW ASSOCIATED WITH A BROAD HIGH PRESSURE
SYSTEM OVER KOREA/JAPAN. TY 15W IS FORECAST TO WEAKEN SLOWLY THROUGH
TAU 36 BUT SHOULD WEAKEN RAPIDLY THEREAFTER DUE TO THE VERTICAL WIND
SHEAR AND LAND INTERACTION...(
more
)


>>
MEGI,
meaning: Catfish. Name contributed by:
RO Korea.
_______________________________________________________________________________________________________________________________________

RECENT TYPHOON2000 TRACKING CHART
: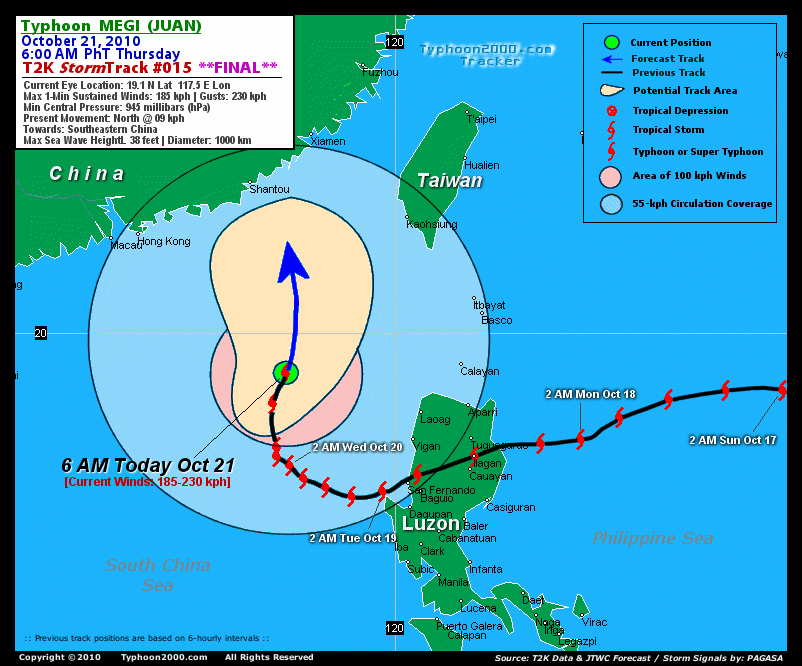 _________________________________________________________________________________________________________________

RECENT MULTI-AGENCY TROPICAL CYCLONE FORECAST TRACKING CHART
:


_________________________________________________________________________________________________________________
RECENT MTSAT-1R "DAY & NIGHT VISION" SATELLITE IMAGE
:

> Image source: NOAA SATELLITE & INFORMATION SERVICE
____________________________________________________________________________________________________________________

RECENT WUNDERGROUND SATELLITE ANIMATION
: **Note: Satellite loop finally aligned!
> Image source: Wunderground.com (
http://www.wunderground.com/
)
____________________________________________________________________________________________________________________

LATEST 24 HR. TOTAL RAINFALL AMOUNTS / ENSEMBLE TROPICAL RAINFALL POTENTIAL (eTRaP):
> Image source: NOAA Satellite & Information Service (
http://www.ssd.noaa.gov/PS/TROP/etrap.html
)
____________________________________________________________________________________________________________________
NOTE:
* - JTWC commentary remarks (for Meteorologists) from their latest warning.
---
Copyright © 2010 Typhoon2000.com All Rights Reserved
__._,_.___
.
__,_._,___