for Monday, 18 October 2010 [2:43 AM PhT]



---
<<<Typhoon2000.com Mobile >>>

Get the latest 3-hrly SMS Storm Alerts on JUAN!
For more details: Text T2K TYPHOON to
2800 (Globe/TM) | 216 (Smart/TNT) | 2288 (Sun)
*only P2.50 (Smart/Globe) / P2.00 (Sun) per msg received.
powered by:
Synermaxx
---
Typhoon2000 (T2K) NEWS (Sunday Oct 17 2010):



Currently issuing 3-hrly web, SMS & email advisories on MEGI (JUAN). The T2K HOURLY POSITION ESTIMATE (NOWCASTING) will begin once the system is less than 200 km away from land. A dry-run of the hourly nowcasting has already begun this afternoon on our mainpage.
---
MEGI (JUAN) MAX WIND SPEED PER AGENCY:



+ USA (JTWC/1-min avg): 285 km/hr
+ Japan (JMA/10-min avg): 220 km/hr
+ Philippines (PAGASA/10-min avg): 225 km/hr
+ Korea (KMA/10-min avg): 215 km/hr
+ Taiwan (CWB/10-min avg): 215 km/hr
+ Beijing (NMC/2-min avg): 260 km/hr
+ Hong Kong (HKO/10-min avg): 220 km/hr
---
SUPER TYPHOON MEGI [JUAN/15W/1013]
T2K E-MAIL ADVISORY NUMBER 015 12:00 AM PhT (16:00 GMT) Mon 18 October 2010Sources: T2K Extrap Analysis/JTWC Wrng #019/SatFix/Recon View: Advisory Archives (2004-2010)
---
Super Typhoon MEGI (JUAN) has been moving WSW during the past 3 hours...endangers Cagayan and Isabela...Inner rainbands now spreading across Northeastern Luzon.
*MEGI is comparable in strength to Super Typhoon ANGELA (ROSING) of November 2-3, 1995, which battered Bicol & Southern Luzon including Metro Manila...and is considered one of the worst typhoons in Philippine History.
Residents and visitors along Northern and Central Luzon particularly Cagayan and Isabela should closely monitor the progress of MEGI (JUAN).
Do not use this for life or death decision. This advisory is intended for additional information purposes only. Kindly refer to your country's official weather agency for local warnings, advisories & bulletins.
CURRENT STORM INFORMATION

Time/Date: 12:00 AM PhT Mon Oct 18 2010
Location of Eye: 17.8º N Lat 124.3º E Lon
Distance 1: 275 km (148 nm) ENE of Tuguegarao City
Distance 2: 275 km (148 nm) ENE of Ilagan, Isabela
Distance 3: 285 km (155 nm) ESE of Aparri, Cagayan
Distance 4: 295 km (160 nm) ENE of Cauayan, Isabela
Distance 5: 295 km (160 nm) NE of Casiguran, Aurora
Distance 6: 395 km (215 nm) ESE of Laoag City
Distance 7: 415 km (225 nm) ENE of Vigan City
Distance 8: 425 km (230 nm) NE of Baguio City
Distance 9: 495 km (267 nm) NE of Metro Manila
MaxWinds (1-min avg): 285 kph (155 kts) near the center
Peak Wind Gusts: 350 kph (190 kts)
Present Movement: WSW @ 20 kph (11 kts)
Towards: Cagayan-Isabela Area
24-hr Rain Amounts (near center): 350 mm (Heavy)
Minimum Central Pressure: 895 millibars (hPa)
Saffir-Simpson Typhoon Scale: Category 5
Size (in Diameter): 1,010 km (545 nm) / Very Large
Max Sea Wave Height (near center): 37 ft (11.2 m)
Possible Storm Surge Height: >18 ft [>5.5 m]
T2K TrackMap #007 (for Public): 12 AM PhT Mon Oct 18
ANALYSIS & FORECAST OUTLOOK (up to 48 hours)*

MEGI has started tracking WSW towards Northern Luzon and continues to intensify...At 7:15 PM (11:15 GMT), a US Air Force C-130 Reconnaissance Plane had flown into the eye of the typhoon and has reported surface winds of 163 knots (300 kph) and a pressure of 895 millibars (hPa)...as well as frequent display of lightning in the eyewall. MEGI will make landfall over Southern Cagayan between 11AM-12PM today...and will start to cross Northern Luzon...passing over or very close to Tuguegarao City around 2 PM this afternoon. The typhoon will continue crossing Northern Luzon...via Northern Isabela...Southern Cagayan...Kalinga...Abra...Ilocos Sur...and will pass about 20 km south of Vigan City around 9-10 PM tonight before moving out into the South China Sea [8AM OCT 18: 17.7N 122.9E @ 270kph...8PM OCT 18: 17.3N 120.7E @ 175kph].. Projected Landfall Area (Time): Along the Isabela-Cagayan Border...about 50 km East of Tuguegarao City Monday noontime. MEGI will start to leave Luzon on Tuesday morning and will move out of the Philippine Area of Responsibility (PAR) on Tuesday evening [8AM OCT 19: 17.0N 118.7E @ 185kph...8PM OCT 19: 17.0N 117.3E @ 195kph].

Maximum Sustained Winds (1-min. avg) have increased to near 285 km/hr (155 knots) with higher gusts. MEGI is a Category 5 Typhoon on the Saffir-Simpson Tropical Cyclone Scale...some slight weakening is likely before it makes landfall. Typhoon Force Winds (118 km/hr or more) extend outward up to 110 kilometers (60 nautical miles) from the center...and Tropical Storm Force Winds (62-117 km/hr) extend outward up to 270 kilometers (145 nautical miles). MEGI is a very large-sized tropical cyclone with a diameter of 1,010 kilometers (545 nautical miles) across.
EXTENDED FORECAST TRACK (3 to 5 days)*

WEDNESDAY EVENING: Turning WNW slowly across the South China Sea...threatens Southern China [8PM OCT 20: 17.3N 115.5E @ 205kph].
THURSDAY EVENING: Regains Category 4 strength...moving closer to Southern China-Hainan Area [8PM OCT 21: 18.1N 113.9E @ 215kph].
FRIDAY EVENING Downgraded to Category 3 as MEGI begins to weaken...approaches the the coastal areas of Hainan & Western Guangdong (just SW of Hong Kong) [8PM OCT 22: 19.6N 112.5E @ 205kph].

*Please be reminded that the Forecast Outlook changes every 6 hours, and the Extended Forecast Track have an average error of 250 km on Day 3...450 km on Day 4...and 650 km on Day 5, while the wind speed forecast error, averages 35 kph per day. Therefore, a turn to the left or right of its future track and changes in its wind speed must be anticipated from time to time.
EFFECTS & HAZARDS

MEGI's core (eye and eyewall) and its rainbands remain over the warm Philippine Sea...but moving closer to Northern Luzon. Its outer rainbands continues to spread across Northern Luzon...Inner rainbands has reached the coastal areas of Cagayan, Isabela and Northern Aurora. Tropical Storm Conditions w/ Tropical Storm Force Winds will arrive over Northeastern Luzon, particularly Cagayan and Isabela in just a few hours...turning into Typhoon Conditions before noontime today (click here to view the latest NOAA-CIRA's Wind Analysis). 24-hr total rainfall amounts of 5 up to 150 mm (light to moderate rain) can be expected along its outer and inner bands or across Northern Luzon today...with isolated amounts of up to 350 mm (heavy) near the center of MEGI...or over Cagayan before noon today (Click here to view the latest NOAA's eTRaP graphic on the storm's rainfall amount). Possible coastal Storm Surge flooding of more than 18 feet above normal tide levels...accompanied by large and dangerous battering waves...is possible along the coastal and beach front areas of Northern Luzon particularly along Cagayan and Isabela beginning today. Catastrophic damage is likely on this type of storm surge. Danger from Rip Currents or Rip Tides can be expected along the rest of the beach-front areas of Eastern & Western Luzon including Bicol Region today.
Important Note: Please keep in mind that the above forecast outlook, extended forecast, effects-hazards, current monsoon intensity, & tropical cyclone watch changes every 6 to 12 hrs!

---
PAGASA Philippine Storm Warnings Signals
PHILIPPINE STORM WARNING SIGNAL # FOUR (4)


In Effect: CAGAYAN & ISABELA.
PHILIPPINE STORM SIGNAL # THREE (3)


Now In Effect: BATANES, CALAYAN IS., BABUYAN IS., APAYAO, KALINGA, MT. PROV, IFUGAO, QUIRINO, NUEVA VIZCAYA, & NORTHERN AURORA.
PHILIPPINE STORM WARNING SIGNAL # TWO (2)


Now In Effect: ILOCOS PROVINCES, ABRA, LA UNION, BENGUET, & THE REST OF AURORA.
The above areas will experience stormy weather beginning today (with winds not exceeding 100 kph...and more than 100 kph for #03...and in excess of 185 kph for #04). Coastal waters will be rough to very rough and extremely dangerous to all types of seacrafts.
PHILIPPINE STORM WARNING SIGNAL # ONE (1)


In Effect: METRO MANILA, RIZAL, PANGASINAN, TARLAC, NUEVA ECIJA, POLILLO, CAVITE, BULACAN, PAMPANGA, BATAAN, ZAMBALES, & NORTHERN QUEZON.
The above areas will have rains and winds of not more than 60 kph beginning today. Coastal waters will be moderate to rough.

Residents living in low-lying and mountainous areas under Public Storm Warning Signal Numbers 4, 3, 2, & 1 are alerted against flashfloods, mudslides and landslides...while those living in coastal & beach-front areas are advised to seek higher grounds due to possible storm surge (aka. big waves).
---

External Links for TY MEGI (JUAN)

View NOAA-CIRA's Latest Wind Analysis
JTWC Latest Tracking Chart: wp1510.gif
Multi-Agency Forecast TrackMap: Near Real-Time
TSR Wind Probabilities: Current to 120 hrs Ahead
NASA-JAXA TMI Page: Latest Rainrate 01
EORC-JAXA TRMM Page: Latest Rainrate 02
Zoomed Satellite Pic: NOAA's Near Real-Time
Wunderground Animation: 6-12 hr. GIF Loop


---
JTWC (US NAVY & AIR FORCE) REMARKS:

REMARKS (for Meteorologists): 8 PM (12 GMT) SUN 17 OCTOBER POSITION: 18.1N 125.1E.
*SUPER TYPHOON (STY) 15W (MEGI), LOCATED APPROXIMATELY 310 NM
NORTHEAST OF MANILA, PHILIPPINES, HAS TRACKED WEST-SOUTHWESTWARD AT
11 KNOTS OVER THE PAST 06 HOURS ALONG THE SOUTHERN PERIPHERY OF THE
DEEP LAYER SUBTROPICAL RIDGE TO THE NORTH. MEGI HAS INTENSIFIED TO
THE UPPER REACHES OF SUPER TYPHOON STRENGTH. CURRENT DVORAK EYE
FIXES FROM PGTW AND RJTD ESTIMATE MAXIMUM SUSTAINED SURFACE WINDS
HAVE ELEVATED 10 KNOTS FROM THE PREVIOUS FORECAST TO 155 KNOTS. A
STRENGTHENED POLEWARD OUTFLOW CHANNEL HAS SUPPORTED THIS
INTENSIFICATION, IN ADDITION TO SUSTAINED EQUATORWARD OUTFLOW INTO A
TROPICAL UPPER LEVEL TROPOSPHERIC TROUGH CELL TO THE EAST. EYE
TEMPERATURES HAVE REMAINED STEADY AT AROUND 15 DEG CELCIUS AND THE
EYE DIAMETER HAS RANGED FROM 20 TO 25 NM...(
more
)


>>
MEGI,
meaning: Catfish. Name contributed by:
RO Korea.
_______________________________________________________________________________________________________________________________________

RECENT TYPHOON2000 TRACKING CHART
: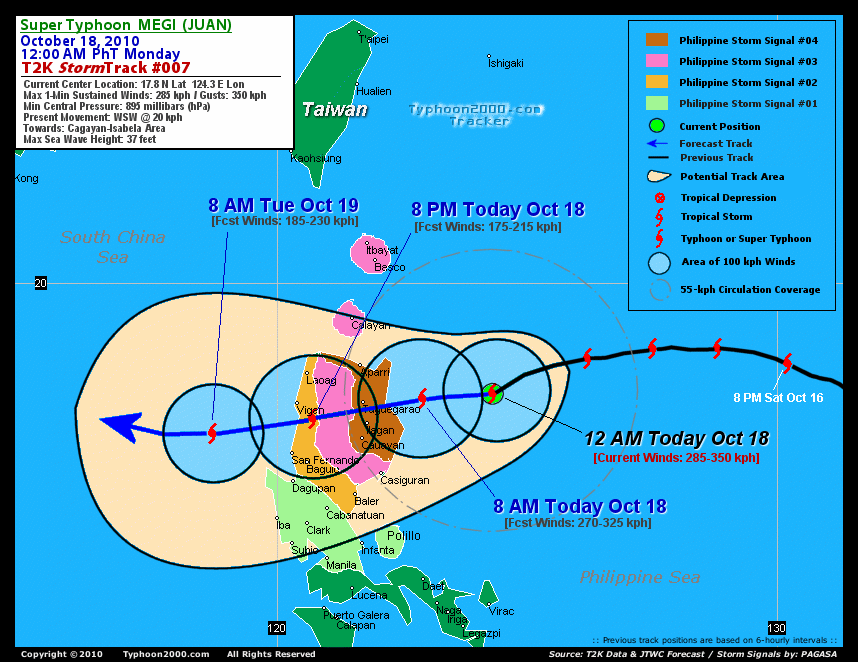 _________________________________________________________________________________________________________________

RECENT MULTI-AGENCY TROPICAL CYCLONE FORECAST TRACKING CHART
:


_________________________________________________________________________________________________________________
RECENT MTSAT-1R "DAY & NIGHT VISION" SATELLITE IMAGE
:

> Image source: NOAA SATELLITE CENTER
____________________________________________________________________________________________________________________

RECENT WUNDERGROUND SATELLITE ANIMATION
: **Note: Satellite loop finally aligned!
> Image source: Wunderground.com (
http://www.wunderground.com/
)
____________________________________________________________________________________________________________________

LATEST 24 HR. TOTAL RAINFALL AMOUNTS / ENSEMBLE TROPICAL RAINFALL POTENTIAL (eTRaP):
> Image source: NOAA Satellite & Information Service (
http://www.ssd.noaa.gov/PS/TROP/etrap.html
)
____________________________________________________________________________________________________________________
NOTE:
* - JTWC commentary remarks (for Meteorologists) from their latest warning.
---
Copyright © 2010 Typhoon2000.com All Rights Reserved
__._,_.___
.
__,_._,___