for Wednesday, 20 October 2010 [6:43 PM PhT]



---
<<<Typhoon2000.com Mobile >>>

Get the latest 6-hrly SMS Storm Alerts on JUAN!
For more details: Text T2K TYPHOON to
2800 (Globe/TM) | 216 (Smart/TNT) | 2288 (Sun)
*only P2.50 (Smart/Globe) / P2.00 (Sun) per msg received.
powered by:
Synermaxx
---
Typhoon2000 (T2K) NEWS (Tuesday Oct 19 2010):



Ending the 3-hrly Web & SMS updates (except 12 AM) on MEGI (JUAN)...now back to its usual 6-hrly updates.
---
MEGI (JUAN) MAX WIND SPEED PER AGENCY:



+ USA (JTWC/1-min avg): 215 km/hr
+ Japan (JMA/10-min avg): 165 km/hr
+ Philippines (PAGASA/10-min avg): 175 km/hr
+ Korea (KMA/10-min avg): 160 km/hr
+ Taiwan (CWB/10-min avg): 170 km/hr
+ Beijing (NMC/2-min avg): 185 km/hr
+ Hong Kong (HKO/10-min avg): 175 km/hr
---
TYPHOON MEGI [JUAN/15W/1013]
T2K E-MAIL ADVISORY NUMBER 024 6:00 PM PhT (10:00 GMT) Wed 20 October 2010Sources: T2K Extrap Analysis/JTWC Wrng #030/SatFixes View: Advisory Archives (2004-2010)
---
Typhoon MEGI (JUAN) has started moving faster, in a northerly track...endangers Eastern Guangdong...no change in strength.
Residents and visitors along Southern & Southeastern China and Taiwan should closely monitor the progress of MEGI (JUAN).
Do not use this for life or death decision. This advisory is intended for additional information purposes only. Kindly refer to your country's official weather agency for local warnings, advisories & bulletins.
CURRENT STORM INFORMATION

Time/Date: 6:00 PM PhT Tue Oct 20 2010
Location of Eye: 18.3º N Lat 117.2º E Lon
Distance 1: 345 km (187 nm) WNW of Vigan City
Distance 2: 355 km (192 nm) NW of Bolinao, Pangasinan
Distance 3: 360 km (195 nm) West of Laoag City
Distance 4: 535 km (290 nm) SE of Hong Kong
Distance 5: 570 km (308 nm) South of Shantou, China
Distance 6: 585 km (315 nm) NW of Metro Manila
MaxWinds (1-min avg): 215 kph (115 kts) near the center
Peak Wind Gusts: 260 kph (140 kts)
Present Movement: North @ 15 kph (08 kts)
Towards: Southeastern China (Eastern Guangdong)
24-hr Total Rainfall (near center): 350 mm (Heavy)
Minimum Central Pressure: 945 millibars (hPa)
Saffir-Simpson Typhoon Scale: Category 4
Size (in Diameter): 1,000 km (540 nm) / Very Large
Max Sea Wave Height (near center): 36 ft (10.9 m)
Possible Storm Surge Height: 13-18 ft [4-5.5 m]
T2K TrackMap #014 (for Public): 6 PM PhT Wed Oct 20
ANALYSIS & FORECAST OUTLOOK (up to 48 hours)*

MEGI has maintained its large organized circulation, with deep rain convection. A ragged eye is present during the afternoon. The typhoon is expected to continue moving northward towards Southeastern-Southern China Area within the next two days. MEGI is forecast to intensify to near-Super Typhoon strength sometime tomorrow and will start to decay as it approaches the shores of Eastern Guangdong, just to the east of Hong Kong on Friday [2PM OCT 21: 19.6N 117.1E @ 230kph...2PM OCT 22: 22.2N 117.1E @ 195kph].

Maximum Sustained Winds (1-min. avg) are near 215 km/hr (115 knots) with higher gusts. MEGI is a Category 4 Typhoon on the Saffir-Simpson Tropical Cyclone Scale. Additional strengthening can still be expected tomorrow. Typhoon Force Winds (118 km/hr or more) extend outward up to 120 kilometers (65 nautical miles) from the center...and Tropical Storm Force Winds (62-117 km/hr) extend outward up to 350 kilometers (190 nautical miles). MEGI remains a very large-sized tropical cyclone, measuring about 1,000 kilometers (540 nautical miles) across.
EXTENDED FORECAST TRACK (3 to 4 days)*



SATURDAY AFTERNOON: Moving inland NW-ward across Eastern Guangdong after making landfall Saturday morning...Downgraded to Category 2 [2PM OCT 23: 23.7N 116.4E @ 160kph].


SUNDAY AFTERNOON: Weakened into a Tropical Storm as it continues to traverse the mountainous terrain of Guangdong Province [2PM OCT 24: 24.7N 115.3E @ 85kph].

*Please be reminded that the Forecast Outlook changes every 6 hours, and the Extended Forecast Track have an average error of 250 km on Day 3...450 km on Day 4...and 650 km on Day 5, while the wind speed forecast error, averages 35 kph per day. Therefore, a turn to the left or right of its future track and changes in its wind speed must be anticipated from time to time.
EFFECTS & HAZARDS SUMMARY

MEGI's very large convective circulation continues to cover a vast area of South China Sea and extends up to Western Luzon and the coastal areas of Southern and Southern China and Taiwan



RAGGED EYE - over water (South China Sea).


EYEWALL - over water (South China Sea).


INNER RAINBANDS - over water (South China Sea).


OUTER RAINBANDS - spreading across the western provinces of Luzon (Ilocos, La Union, Benguet, Pangasinan, Zambales, & Bataan) and the Southern and SE coaslines of China. Moderate to strong winds (<55 kph) with passing on-and-off showers, squalls or thunderstorms can be expected along these areas today.


24-HR TOTAL RAINFALL ACCUMULATION - from 5 up to 200 mm (light to heavy rain) can be expected along the outer and inner rainbands...with isolated amounts of up to 350 mm (heavy) near the center of MEGI [view current NOAA's eTRaP graphic].


COASTAL STORM SURGE FLOODING - possible 13 to 18 feet above normal tide levels...accompanied by large and dangerous battering waves can be expected along the coastal and beach front areas of Western Luzon today...and in Guangdong Province, China beginning tomorrow until Saturday. Extreme damage is likely on this type of storm surge. Danger from large swells and Rip Currents or Rip Tides can be expected along the rest of the beach-front areas of Southern China, Western Visayas, Southern & Eastern Luzon in the Philippines today.
TROPICAL CYCLONE WATCH

The strong Tropical Disturbance 95W (LPA/1006 MB) continues to consolidate as it moves WNW-ward. It was located near lat 16.3N lon 146.7E...or about 160 km NE of Saipan, CNMI...with 1-min maximum sustained winds of 35 kph near the center...moving WNW @ 19 kph towards Northern Marianas. The 24 to 48-Hr. Tropical Cyclone Formation Potential on this system is now at 80%. Click here to view current satellite image and flash animation. JTWC has issued a Tropical Cyclone Formation Alert (TCFA) on this disturbance.
Important Note: Please keep in mind that the above forecast outlook, extended forecast, effects-hazards, current monsoon intensity, & tropical cyclone watch changes every 6 to 12 hrs!

---
PAGASA Philippine Storm Warnings Signals
PHILIPPINE STORM WARNING SIGNAL # ONE (1)


In Effect: ILOCOS NORTE, ILOCOS SUR, LA UNION, BENGUET, PANGASINAN, & ZAMBALES.
The above areas will have rains and winds of not more than 60 kph today. Coastal waters will be moderate to rough.

Residents living in low-lying and mountainous areas under Public Storm Warning Signal Numbers 2, & 1 are alerted against flashfloods, mudslides and landslides...while those living in coastal & beach-front areas are advised to seek higher grounds due to possible storm surge (aka. big waves).
---

External Links for TY MEGI (JUAN)

View NOAA-CIRA's Latest Wind Analysis
JTWC Latest Tracking Chart: wp1510.gif
Multi-Agency Forecast TrackMap: Near Real-Time
TSR Wind Probabilities: Current to 96 hrs Ahead
NASA-JAXA TMI Page: Latest Rainrate 01
EORC-JAXA TRMM Page: Latest Rainrate 02
Zoomed Satellite Pic: NOAA's Near Real-Time
Wunderground Animation: 6-12 hr. GIF Loop


---
JTWC (US NAVY & AIR FORCE) REMARKS:

REMARKS (for Meteorologists): 2 PM (06 GMT) WED 20 OCTOBER POSITION: 17.7N 117.2E.
*TYPHOON (TY) 15W (MEGI), LOCATED APPROXIMATELY 320 NM SOUTH-SOUTHEAST
OF HONG KONG, HAS TRACKED NORTH-NORTHWESTWARD AT 05 KNOTS OVER THE
PAST SIX HOURS. ANIMATED MULTISPECTRAL IMAGERY SHOWS THE SYSTEM HAS
MAINTAINED A RAGGED EYE AND OVERALL DEEP CONVECTION. ADDITIONALLY,
GOOD RADIAL OUTFLOW, ESPECIALLY ON THE POLEWARD CHANNEL, HAS
PERSISTED OVER THE SYSTEM. THE CURRENT INTENSITY AND POSITION ARE
BASED ON DVORAK EYE FIXES FROM PGTW AND RJTD WITH GOOD CONFIDENCE.
UPPER LEVEL ANALYSIS INDICATES TY 15W IS TO THE SOUTH OF A RIDGE AXIS
IN AN AREA OF LOW VERTICAL WIND SHEAR (VWS). IT IS CURRENTLY TRACKING
ALONG THE SOUTHWEST EXTENSION OF A DEEP-LAYERED SUBTROPICAL RIDGE TO
THE NORTHEAST AND MOVING POLEWARD TOWARDS A BREAK IN THE RIDGE CAUSED
BY AN APPROACHING MID-LATITUDE TROUGH THAT IS DIGGING SOUTHEAST INTO
SOUTHEAST CHINA. THE SYSTEM IS EXPECTED TO CONTINUE MOVING POLEWARD
UP TO TAU 72. AFTER TAU 72, A BRANCH OF THE STR OVER SOUTH CENTRAL
CHINA WILL REBUILD AND CAUSE THE SYSTEM TO MOVE ON A MORE
NORTHWESTWARD TRAJECTORY AND MAKE LANDFALL BEFORE TAU 96 NORTHEAST OF
HONG KONG. THE AVAILABLE NUMERIC GUIDANCE ARE IN LOOSE AGREEMENT WITH
GFS ON THE EXTREME RIGHT OF THE ENVELOPE AND ECMWF ON THE LEFT. THIS
FORECAST IS IN THE MIDDLE AND JUST TO THE LEFT OF JTWC CONSENSUS TO
OFFSET GFS'S UNLIKELY EASTWARD DEFLECTION...(
more
)


>>
MEGI,
meaning: Catfish. Name contributed by:
RO Korea.
_______________________________________________________________________________________________________________________________________

RECENT TYPHOON2000 TRACKING CHART
: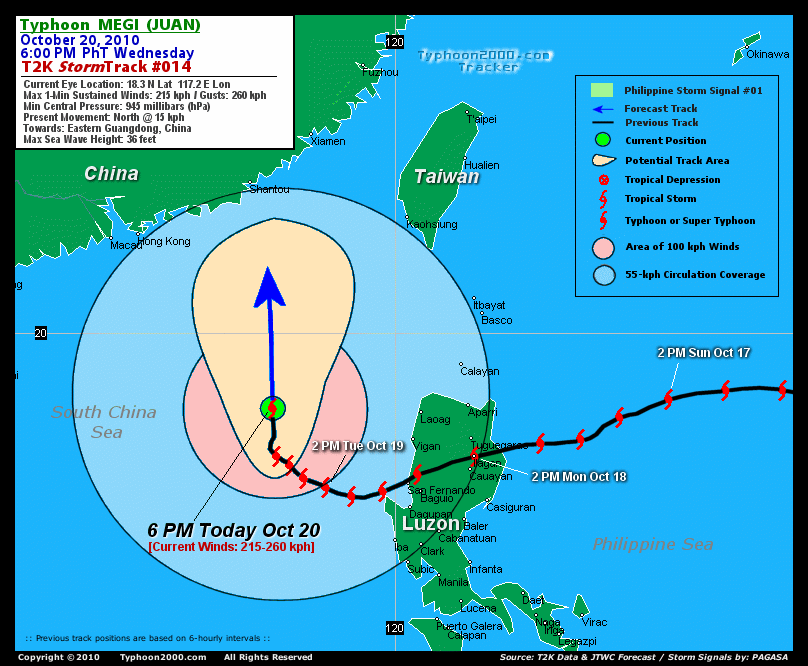 _________________________________________________________________________________________________________________

RECENT MULTI-AGENCY TROPICAL CYCLONE FORECAST TRACKING CHART
:


_________________________________________________________________________________________________________________
RECENT MTSAT-1R "DAY & NIGHT VISION" SATELLITE IMAGE
:

> Image source: NOAA SATELLITE & INFORMATION SERVICE
____________________________________________________________________________________________________________________

RECENT WUNDERGROUND SATELLITE ANIMATION
: **Note: Satellite loop finally aligned!
> Image source: Wunderground.com (
http://www.wunderground.com/
)
____________________________________________________________________________________________________________________

LATEST 24 HR. TOTAL RAINFALL AMOUNTS / ENSEMBLE TROPICAL RAINFALL POTENTIAL (eTRaP):
> Image source: NOAA Satellite & Information Service (
http://www.ssd.noaa.gov/PS/TROP/etrap.html
)
____________________________________________________________________________________________________________________
NOTE:
* - JTWC commentary remarks (for Meteorologists) from their latest warning.
---
Copyright © 2010 Typhoon2000.com All Rights Reserved
__._,_.___
.
__,_._,___