for Sunday, 08 May 2011 [6:07 AM PhT]



---
<<<Typhoon2000.com Mobile >>>

Get the latest 3-Hourly SMS Storm Alerts on BEBENG!
For more details: Text T2K TYPHOON to
2800 (Globe/TM) | 216 (Smart/TNT) | 2288 (Sun)
*only P2.50 (Smart/Globe) / P2.00 (Sun) per msg received.
powered by:
Synermaxx
---
Typhoon2000 (T2K) NEWS (Saturday May 07 2011):



Now issuing 3-hrly web and e-mail updates (except 12 AM) on TS AERE (BEBENG).
---
AERE (BEBENG) MAX WIND SPEED PER AGENCY:



+ USA (JTWC/1-min avg): 85 km/hr
+ Japan (JMA/10-min avg): 75 km/hr
+ Philippines (PAGASA/10-min avg): 75 km/hr
+ Beijing (NMC/2-min avg): 85 km/hr
+ Korea (KMA/10-min avg): 75 km/hr
+ Taiwan (CWB/10-min avg): 75 km/hr
+ Hong Kong (HKO/10-min avg): 65 km/hr
:: Click here to see Multi-Agency Forecast Tracks
---
TROPICAL STORM AERE [BEBENG/03W/1101]
T2K PUBLIC ADVISORY NUMBER 006 6:00 AM PhT (22:00 GMT) Sun 08 May 2011Sources: T2K Extrap Analysis/JTWC Warning #007/SatFixesView: Advisory Archives (2004-2011)
---
Tropical Storm AERE (BEBENG) is now along the Southeastern Coast of Catanduanes...expected to traverse the island province later this morning...Stormy weather continuing across Bicol Region and Samar Provinces. The T2K Automated Weather Station has already recorded wind gust of 40 kph blowing from the North; barometric pressure readings of 999.9 millibars (hPa); & 120.7 mm of rainfall since 12AM this morning.
Residents and visitors along Eastern Luzon, Bicol Region & Eastern Visayas should closely monitor the progress of AERE (BEBENG).
Do not use this for life or death decision. This advisory is intended for additional information purposes only. Kindly refer to your country's official weather agency for local warnings, advisories & bulletins.
CURRENT STORM INFORMATION
Time/Date: 6:00 AM PhT Sun May 08 2011
Location of Center: 13.5º N Lat 124.5º E Lon
Distance 1: 35 km (20 nm) East of Virac, Catanduanes
Distance 2: 80 km (43 nm) NE of Sorsogon City
Distance 3: 85 km (45 nm) ESE of Gota Beach
Distance 4: 95 km (50 nm) ENE of Legazpi City
Distance 5: 110 km (60 nm) NNW of Catarman, N.Samar
Distance 6: 120 km (65 nm) ENE of Iriga City
Distance 7: 140 km (75 nm) ESE of Metro Naga/CWC
Distance 8: 140 km (75 nm) ESE of Siruma, CamSur
Distance 9: 185 km (100 nm) ESE of Daet/Ragay
Distance 10: 395 km (213 nm) ESE of Metro Manila
MaxWinds (1-min avg): 85 kph (45 kts) near the center
Peak Wind Gusts: 100 kph (55 kts)
Present Movement: WNW @ 11 kph (07 kts)
Towards: Catanduanes
CPA over Bicol Area: 2AM-2PM Today
24hr Total Rainfall (near center): 400 mm (Very Heavy)
Minimum Central Pressure: 989 millibars (hPa)
Saffir-Simpson Typhoon Scale: TS
Size (in Diameter): 445 km (240 nm) / Average
Max Sea Wave Height (near center): 16 ft (4.8 m)
Possible Storm Surge Height: 0-3 ft [0-0.9 m]
T2K TrackMap (for Public): 3:00 PM PhT Sun May 08
FORECAST OUTLOOK ANALYSIS (up to 48 hours)*

AERE (BEBENG) is expected to turn NW to NNW-ward for the next 2 days and will continue to intensify. This system will pass along the Northeastern coast of Catanduanes between 7-9AM this morning...about more or less 40 km North of Virac. The storm's Closest Point of Approach (CPA) over Metro Naga will be more or less 110 km to the NE around 12 PM Noontime, and shall reach its peak strength of 110 kph as it makes landfall over Northern Aurora around 2AM tomorrow (Monday May 09)...or about 40 km NNE of Casiguran, Aurora [2PM MAY 08: 14.8N 123.5E @ 95kph...2AM MAY 09: 16.5N 122.3E @ 110kph]. By tomorrow - Monday afternoon, AERE shall traverse Northern Luzon, passing very close to Ilagan City, Isabela around 7-8AM (Monday May 09)...and over Tuguegarao City, Cagayan around 9-10AM. It shall then exit Northern Luzon via the NW coast of Cagayan Monday evening or about 45 km West of Aparri, Cagayan...and in the vicinity of Balintang Channel-Batanes Area by Tuesday early morning (May 10) [2PM MAY 09: 18.5N 121.3E @ 95kph...2AM MAY 10: 20.4N 121.3E @ 85kph].

Maximum Sustained Winds (1-min. avg) are near 85 km/hr (45 knots) with higher gusts. AERE (BEBENG) is a Tropical Storm on the Saffir-Simpson Tropical Cyclone Scale. Continued strengthening can be expected today. Tropical Storm Force Winds (62-117 km/hr) extend outward up to 185 kilometers (100 nautical miles) from the center. AERE is an average-sized tropical cyclone with a diameter of 445 kilometers (240 nautical miles).
EXTENDED FORECAST TRACK (3 to 5 days)*



WEDNESDAY EARLY MORNING: Weakening into a minimal Tropical Storm as it accelerates NE-ward just to the east of Taiwan...about 195 km SE of Hualien City, Taiwan [2AM MAY 11: 22.7N 122.9E @ 65kph].


THURSDAY EARLY MORNING: Downgraded to a Tropical Depression (TD) as it exits the Philippine Area of Responsibility (PAR)...passing near Okinawa Islands...becoming Extratropical...about 120 km West of Okinawa Island, Japan [2AM MAY 12: 26.3N 126.8E @ 55kph].


FRIDAY EARLY MORNING: Completes Extratropical status...passing along the southern coast of Shikoku, Japan...about 145 km SE of Kagoshima City, Japan [2AM MAY 13: 30.7N 131.7E @ 55kph].

*Please be reminded that the Forecast Outlook changes every 6 hours, and the Extended Forecast Track have an average error of 250 km on Day 3...450 km on Day 4...and 650 km on Day 5, while the wind speed forecast error, averages 35 kph per day. Therefore, a turn to the left or right of its future track and changes in its wind speed must be anticipated from time to time.
EFFECTS & HAZARDS SUMMARY

AERE's circulation remains strong while over east of Catanduanes - with its broad rainbands affecting the Bicol Region, Southern Tagalog Provinces, Visayas & nearby areas. Below are the summary of the storm's parts and its hazards affecting specific areas:



CENTRAL DENSE OVERCAST (CDO) - over Catanduanes, Lagonoy Gulf, & Albay Gulf. Tropical Storm Conditions w/ Tropical Storm Force Winds (65-100 kph) will be expected along these bands. (click here to know more about CDO).


INNER RAINBANDS - affecting the Rest of Bicol Region including Masbate & Burias-Ticao Islands. Tropical Depression Conditions w/ moderate to strong winds (30-65 kph) will be expected along these bands.


OUTER RAINBANDS - spreading across Southern Tagalog Provinces, Northern Palawan, & the Rest of Visayas - where light to moderate winds (<30 kph) will be expected along these bands. (click here to know more about Rainbands).


24HR TOTAL RAINFALL ACCUMULATION - from 5 up to 250 mm (light to heavy rain) can be expected along the outer & inner rainbands...with isolated amounts of up to 400 mm (very heavy) near the center of AERE. [click to open NOAA's eTRaP graphic].
CURRENT ITCZ/MONSOON TROUGH INTENSITY: MODERATE >> Partly sunny to mostly cloudy with scatt$ered showers, rains & thunderstorms can be expected along these following affected areas: PALAWAN & MINDANAO. Light to moderate NW, W, SW to variable winds (not in excess of 35 kph) can be expected today and tomorrow.
Important Note: Please keep in mind that the above forecast outlook, extended forecast, effects-hazards, current monsoon intensity, & tropical cyclone watch changes every 6 to 12 hrs!

---

PAGASA Philippine Storm Warnings Signals
PHILIPPINE STORM WARNING SIGNAL # TWO (2)


In Effect: SORSOGON, TICAO ISLAND, ALBAY, BURIAS ISLAND, CAMARINES SUR, CAMARINES NORTE, QUEZON, CATANDUANES, POLILLO ISLAND, & NORTHERN SAMAR.
The above areas will experience stormy weather today (with winds not exceeding 100 kph). Coastal waters will be rough to very rough and extremely dangerous to all types of seacrafts.
PHILIPPINE STORM WARNING SIGNAL # ONE (1)


In Effect: MASBATE, ROMBLON, MARINDUQUE, LAGUNA, RIZAL, BULACAN, NUEVA ECIJA, NUEVA VISCAYA, QUIRINO, AURORA, ISABELA, EASTERN & WESTERN SAMAR.
The above areas will have rains and winds of not more than 60 kph today. Coastal waters will be moderate to rough.

Residents living in low-lying and mountainous areas under Public Storm Warning Signal Number 1 & 2 are alerted against possible flashfloods, mudslides and landslides...while those living in coastal & beach-front areas are advised to seek higher grounds due to possible storm surge (aka. big waves).
---

JTWC (US NAVY & AIR FORCE) REMARKS:

REMARKS (for Meteorologists): 2 AM (18 GMT) SUN 08 MAY POSITION: 13.6N 124.7E.
*SATELLITE IMAGERY AND A 071730Z TRMM MICROWAVE PASS SHOW SPIRAL
BANDING WRAPPING INTO A WELL-DEFINED LOW LEVEL CIRCULATION CENTER
(LLCC) WITH INCREASED DEEP CENTRAL CONVECTION. THE CURRENT INTENSITY
IS BASED ON DVORAK ESTIMATES RANGING FROM 45 TO 55 KNOTS FROM PGTW
AND KNES. UPPER LEVEL ANALYSIS INDICATES THAT THE SYSTEM IS SLIGHTLY
SOUTH OF THE SUBTROPICAL RIDGE (STR) AXIS IN A REGION OF STRONG
DIFFLUENCE, ASSOCIATED WITH AN ANTI-CYCLONE LOCATED SLIGHTLY
NORTHEAST OF THE SYSTEM. VERTICAL WIND SHEAR REMAINS WEAK (5 TO 10
KNOTS). ANIMATED WATER VAPOR REVEALS SLIGHTLY ENHANCED POLEWARD
OUTFLOW AHEAD OF AN APPROACHING MID-LATITUDE TROUGH. TS 03W IS
CURRENTLY TRACKING ALONG THE SOUTHWESTERN PERIPHERY OF A MID-LEVEL
STR AND IS EXPECTED TO STEADILY INTENSIFY DUE TO FAVORABLE VERTICAL
WIND SHEAR (VWS), WARM SEA SURFACE TEMPERATURES, AND A MOISTURE RICH
ENVIRONMENT, BEFORE MAKING LANDFALL NEAR TAU 24. THE SYSTEM IS
FORECAST TO WEAKEN SLIGHTLY AS IT ENCOUNTERS THE RUGGED TERRAIN OF
NORTHERN LUZON AND RE-EMERGES IN THE LUZON STRAIT. BY TAU 36, TS 03W
IS FORECAST TO TURN POLEWARD AND UNDERGO FURTHER WEAKENING AS IT
ENCOUNTERS DRIER AIR (EVIDENT IN LAOAG, PHILIPPINES SKEW-T), HIGHER
VERTICAL WIND SHEAR, AND COOLER SEA SURFACE TEMPERATURES. THE SYSTEM
SHOULD BEGIN TO TRANSITION INTO A WEAK EXTRA-TROPICAL LOW BY TAU 96.
HOWEVER, BASED ON THE HOSTILE UPPER LEVEL CONDITIONS TS 03W WILL
ENCOUNTER ONCE IT RE-EMERGES IN THE LUZON STRAIT, THERE IS A CHANCE
DISSIPATION COULD OCCUR SOONER THAN FORECAST. NUMERICAL MODEL
GUIDANCE IS IN EXCEPTIONALLY GOOD AGREEMENT WITH THIS FORECAST
TRACK; THEREFORE THIS FORECAST IS CONSISTENT WITH THE PREVIOUS
FORECAST TRACK AND IS CLOSE TO MODEL CONSENSUS...(
more
)


>>
AERE,
meaning: A storm. Name contributed by:
United States of America._______________________________________________________________________________________________________________________________________


RECENT TYPHOON2000.COM TRACKING CHART
: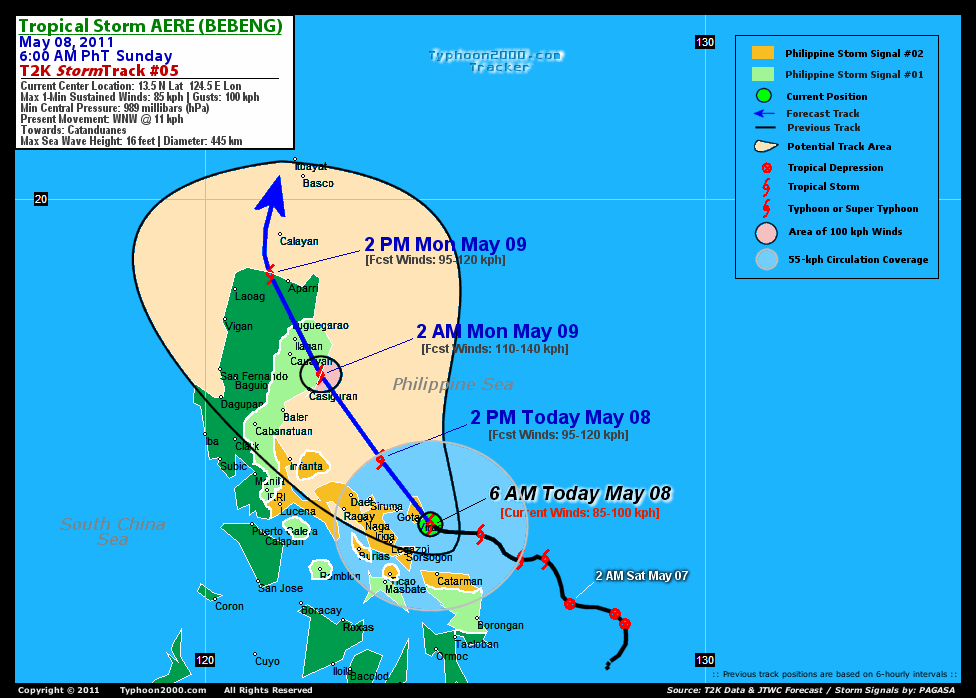 _________________________________________________________________________________________________________________

RECENT MULTI-AGENCY TROPICAL CYCLONE FORECAST TRACKING CHART
:


_________________________________________________________________________________________________________________
RECENT MTSAT-2 "DAY & NIGHT VISION" SATELLITE IMAGE
:

> Image source: NOAA SATELLITE CENTER:
http://www.ssd.noaa.gov/mtsat/flt/t1/rgb.jpg
____________________________________________________________________________________________________________________

RECENT WUNDERGROUND SATELLITE ANIMATION
:
> Image source: Wunderground.com Tropical Page (
http://www.wunderground.com/tropical
)
____________________________________________________________________________________________________________________

LATEST 24 HR. TOTAL RAINFALL AMOUNTS / ENSEMBLE TROPICAL RAINFALL POTENTIAL (eTRaP):
> Image source: NOAA Satellite & Information Service (
http://www.ssd.noaa.gov/PS/TROP/etrap.html
)
____________________________________________________________________________________________________________________
NOTE:
* - JTWC commentary remarks (for Meteorologists) from their latest warning.
---
Copyright © 2011 Typhoon2000.com All Rights Reserved
__._,_.___
.
__,_._,___