for Wednesday, 04 October 2012 [8:30 PM PhT]

---
TYPHOON2000 (T2K) TROPICAL CYCLONE UPDATES

TROPICAL STORM GAEMI (MARCE) UPDATE NUMBER 005
Issued: 6:00 PM PhT (10:00 GMT) Wed 03 October 2012
Next Update: 6:00 AM PhT (22:00 GMT) Thu 04 October 2012
---
Tropical Storm GAEMI (MARCE) remains almost stationary west of Zambales or just over the West Philippine Sea. Its outer rainbands continues to affect and bring occasional rains across the Western parts of Southern Luzon including Bataan, Zambales, Mindoro and Metro Manila.
Residents and visitors along Western Luzon (Philippines) and Vietnam should closely monitor the development of Gaemi (Marce).
Do not use this for life or death decision. This update is intended for additional information purposes only. Kindly refer to your national weather agency for official warnings, advisories or bulletins.

CURRENT STORM ANALYSIS

As of 6 PM today, the center of Tropical Storm Gaemi (Marce) was located about 310 km away from Subic Bay or 402 km away from Metro Manila and is currently almost stationary over the West Philippine Sea .

Maximum Sustained Winds (1-min. avg) have increased to 100 km/hr with higher gusts. Tropical Storm Force Winds (62-117 km/hr) extend outward up to 120 kilometers from the center. Gaemi (Marce) is an average-sized tropical cyclone with a diameter of 555 kilometers across. The 24-hour rainfall accumulation near the center of Gaeme (Marce) is extreme (530 mm).

3-DAY FORECAST OUTLOOK*

Gaemi (Marce) is expected to drift slowly southwestward to westward during the next 12 to 24 hours, accelerating more to the West thereafter. On the forecast track, the center of Gaemi (Marce) is expected to remain over the open waters of the West Philippine Sea, just west of Manila and will head toward Vietnam later on the forecast period.

Some strengthening of its wind speed is forecast during the next 24 to 48 hours...and Gaemi (Marce) could become a minimal typhoon on Thursday.

The following is the summary of the 3-day forecast outlook on this system:



THURSDAY EVENING: Moving slowly westward across the West Philippine Sea...becomes a minimal typhoon...about 398 km away from Subic Bay, Zambales [6PM OCT 04: 14.9N 116.6E @ 120kph].


FRIDAY EVENING: Starts to move faster westward...already outside of the Philippine Area of Responsibility (PAR)...intensifying...about 549 km closer to Da Nang, Vietnam [6PM OCT 05: 15.0N 113.2E @ 130kph].


SATURDAY EVENING: Weakens to a tropical storm as it makes landfall over Vietnam...about 100 km closer to Da Nang, Vietnam [6PM OCT 06: 15.2N 108.2E @ 100kph].

*Please be reminded that the Forecast Outlook changes every 6 hours, and the Day 3 Forecast Track have an average error of 250 km...while the wind speed forecast error, averages 35 kph per day. Therefore, a turn to the left or right of its future track and changes in its wind speed must be anticipated from time to time.

EFFECTS & HAZARDS SUMMARY

Below is the summary of the storm's parts and its hazards affecting specific areas. You can also view this image link for you to understand the parts.



INNER RAINBANDS - over water (West Philippine Sea)...not yet affecting any land areas.. Tropical Storm Conditions with Tropical Storm Force Winds (62-117 kph) will be expected along these bands.


OUTER RAINBANDS - affecting and spreading across the West Coast of Luzon (from La Union down to Batangas, Cavite, Metro Manila and Mindoro including Lubang Island. Cloudy/Rainy Conditions with moderate to strong winds (<62 kph) will be expected along these bands (click here to know more about Rainbands).


24HR TOTAL RAINFALL ACCUMULATION - from 5 up to 200 mm (low to heavy rainfall) can be expected along areas affected by the outer & inner rainbands (see above)...with isolated amounts of 201 to 500 mm (heavy to extreme) along areas near the center of Gaemi (Marce).
Important Note: Please keep in mind that the above forecast outlook, effects-hazards, current monsoon intensity, & tropical cyclone watch changes every 6 to 12 hrs!


---

CURRENT TECHNICAL INFORMATION

Time/Date: 6:00 PM PhT Wed October 03, 2012
Class/Name: Tropical Storm Gaemi (Marce)
Location of Center: 15.5º N Lat 117.5º E Lon
Distance 1: 269 km (WNW) closer to Iba, Zambales
Distance 2: 305 km (WSW) away from Dagupan City
Distance 3: 310 km (WNW) closer to Subic Bay
Distance 4: 334 km (WNW) away from Clark Intl. Airport
Distance 5: 402 km (WNW) closer Metro Manila
MaxWinds (1-min avg): 100 kph near the center
Peak Wind Gusts: 130 kph
Present Movement: SW @ 02 kph
Towards: West Philippine Sea
24hr Rainfall Accum (near center): Extreme [500 mm]
Minimum Central Pressure: 982 millibars (hPa)
Size (in Diameter): 555 km (300 nm) [Average]
Max Sea Wave Height (near center): 20 ft
Possible Coastal Storm Surge Height: 1-3 ft (0.3-0.9 m)
T2K StormTracks (for Public): Google Map (Flash) | GIF (for Philippines only)

CURRENT NOAA/MTSAT-2 INFRARED (IR) SATELLITE IMAGE:
__________________________________________________________________________________________________

CURRENT TYPHOON2000.COM/WEATHER.COM.PH TRACKING MAP: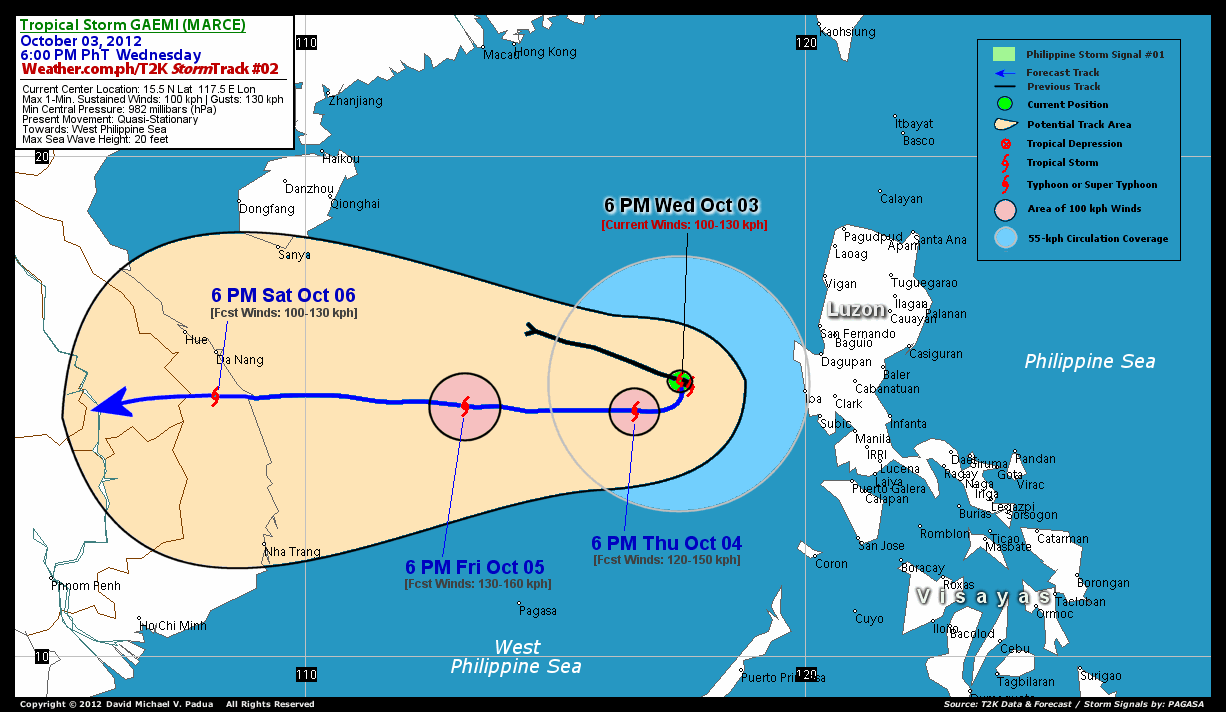 _____________________________________________________________________________
__._,_.___
.
__,_._,___