for Monday, 10 October 2011 [6:24 PM PhT]



---
<<<Typhoon2000.com Mobile >>>
Get the latest 6-hrly SMS Storm Alerts on RAMON!
For more details: Text T2K TYPHOON to
2800 (Globe/TM) | 216 (Smart/TNT) | 2288 (Sun)
*Only P2.50 (Smart/Globe) / P2.00 (Sun) per msg received.
Click here
on how to use this service (in PDF file)
Powered by:
Synermaxx Corporation
---
Typhoon2000 (T2K) NEWS (Monday Oct 10 2011):



Now issuing 6-hrly web, SMS, email, & android (iTyphoon) updates (except 12:00 Midnight) on 23W (RAMON).
---
23W (RAMON) MAX WIND SPEED PER AGENCY:



+ USA (JTWC/1-min avg): 55 km/hr
+ Japan (JMA/10-min avg): 55 km/hr
+ Philippines (PAGASA/10-min avg): 55 km/hr
+ Beijing (NMC/2-min avg): -- km/hr
+ Taiwan (CWB/10-min avg): -- km/hr
+ Korea (KMA/10-min avg): -- km/hr
+ Hong Kong (HKO/10-min avg): -- km/hr
---
TROPICAL DEPRESSION 23W [RAMON]
T2K PUBLIC ADVISORY NUMBER 002
6:00 PM PhT (10:00 GMT) Mon 10 October 2011Source: T2K Analysis/JTWC TC Warning #002/SatFixes
View: Advisory Archives (2004-2011)
---
Tropical Depression 23W (RAMON) intensified slightly as it maintains its westerly trek across the South Philippine Sea...Storm Warning Signal No. 1 now raised across parts of Northeastern Mindanao (see below)
Residents and visitors along Northern Mindanao, Visayas & Southern Bicol should closely monitor the progress of 23W (RAMON).
Do not use this for life or death decision. This advisory is intended for additional information purposes only. Kindly refer to your country's official weather agency for local warnings, advisories & bulletins.

CURRENT STORM INFORMATION

Time/Date: 6:00 PM PhT Mon October 10 2011
Location of Center: 7.6º N Lat 131.1º E Lon
Distance 1: 376 km WNW of Koror, Palau
Distance 2: 536 km ESE of Hinatuan, Surigao D.Sur
Distance 3: 609 km ENE of Metro Davao
Distance 4: 633 km ESE of Butuan City
Distance 5: 662 km SE of Surigao City
Distance 6: 833 km ESE of Tagbilaran City
Distance 7: 846 km SE of Metro Cebu
Distance 8: 960 km SE of Bacolod City
Distance 9: 994 km SE of Iloilo City
Distance 10: 767 km SE of Borongan City
Distance 11: 807 km SE of Ormoc City
MaxWinds (1-min avg): 55 kph (30 kts) near the center
Peak Wind Gusts: 75 kph (45 kts)
Present Movement: West @ 19 kph (10 kts)
Towards: Surigao-Leyte Area
CPA [ETA] to Surigao DN: Wed Morning [6-9am PhT]
24hr Rainfall Accum (near center): 400 mm (High)
Minimum Central Pressure: 1000 millibars (hPa)
Saffir-Simpson Typhoon Scale: Tropical Depression
Size (in Diameter): 300 km (160 nm) [Small]
Wind Area Distribution (in Knots): Current Wind Profile
Max Sea Wave Height (near center): 12 ft
Possible Storm Surge Height: 0 ft [0 m]
T2K TrackMap (for Public): 6 PM PhT Mon Oct 10

3-DAY FORECAST OUTLOOK & ANALYSIS*

23W (RAMON) is expected to turn WNW to NW-ward during the next 2 to 3 days...with little change on its forward speed. On the forecast track, the core of the depression will be approaching the NE Coast of Surigao Del Norte early Wednesday morning...passing over or very near Surigao City a few hours after sunrise...and will traverse the major islands of the Visayas (Northern Cebu-Northernmost Negros-Northern Panay) Wednesday afternoon through Thursday morning.

Maximum Sustained Winds (1-min. avg) have increased to near 55 km/hr (30 knots) with higher gusts. 23W (RAMON) is a Tropical Depression on the Saffir-Simpson Tropical Cyclone Scale...and could become a Tropical Storm (TS) on Tuesday.

The following is the summary of the 3-day forecast outlook on this system:



TUESDAY AFTERNOON:  Attains Tropical Storm (TS) strength...moving WNW closer to the east coast of Surigao Provinces. [2PM OCT 11: 8.5N 128.2E @ 75kph].


WEDNESDAY AFTERNOON:  Approaching Northern Cebu as it passes between Bohol & Southern Leyte...weakens slightly due to land interaction [2PM OCT 12: 10.3N 124.5E @ 65kph].


THURSDAY AFTERNOON:  Downgraded to a Tropical Depression after crossing the major islands of the Visayas...just along the Southern Coast of Mindoro [2PM OCT 13: 12.0N 121.4E @ 55kph].

23W's (RAMON's) CLOSEST POINT OF APPROACH (CPA)*



SURIGAO DEL NORTE:  Passing very near or over Surigao City [ETA: 6:00-9:00 AM Local Time, Wednesday].


CEBU:  Passing more or less 50 km north of Metro Cebu [ETA: 6:00-8:00 PM Wednesday].


BACOLOD-ILOILO AREA:  Passing more or less 50 km north of Bacolod & Iloilo Cities [ETA: 1:00-3:00 AM Thursday].

*Please be reminded that the Forecast Outlook changes every 6 hours, and the Day 3 Forecast Track have an average error of 250 km...while the wind speed forecast error, averages 35 kph per day. Therefore, a turn to the left or right of its future track and changes in its wind speed must be anticipated from time to time.

EFFECTS & HAZARDS SUMMARY

Below is the summary of the storm's parts and its hazards affecting specific areas:



DEVELOPING RAINBANDS - affecting & spreading across South Philippine Sea (west of Palau Islands & east of Eastern Mindanao). Tropical Depression Conditions w/ moderate to strong winds (25-61 kph) will be expected along these bands (click here to know more about Rainbands).


24HR TOTAL RAINFALL ACCUMULATION - from 5 up to 200 mm (low to high rainfall) can be expected along areas affected by the outer & inner rainbands (see above)...with isolated amounts of 201 to 400 mm (high) along areas near the center of 23W (RAMON). (click to open NOAA's eTRaP graphic).
Important Note: Please keep in mind that the above forecast outlook, effects-hazards, current monsoon intensity, & tropical cyclone watch changes every 6 to 12 hrs!


---
PAGASA Philippine Storm Warnings Signals
PHILIPPINE STORM WARNING SIGNAL # ONE (1)


Now In Effect: SURIGAO DEL NORTE, SURIGAO DEL SUR, SIARGAO ISLAND, & DINAGAT GROUP OF ISLANDS.
The above areas will have rains and winds of not more than 60 kph beginning Tuesday. Coastal waters will be moderate to rough.

Residents living in low-lying and mountainous areas under Public Storm Warning Signals are alerted against flashfloods, mudslides and landslides...while those living in coastal & beach-front areas are advised to seek higher grounds due to possible storm surge (aka. big waves).


---
External Links for TD 23W (RAMON)PAGASA@Twitter: Hourly Updates
View NOAA-CIRA's: Latest Full Wind Analysis
JTWC Latest Tracking Chart: wp2311.gif
TSR Wind Probabilities: Current to 5 days Ahead
JAXA TRMM Page: Latest Rainrate (in mm/hr)
Zoomed Satellite Pic: NOAA's Near Real-Time
Wunderground Animation: 6-12 hr. GIF Loop
_____________________________________________________________________________
TYPHOON2000 CURRENT STORMTRACK: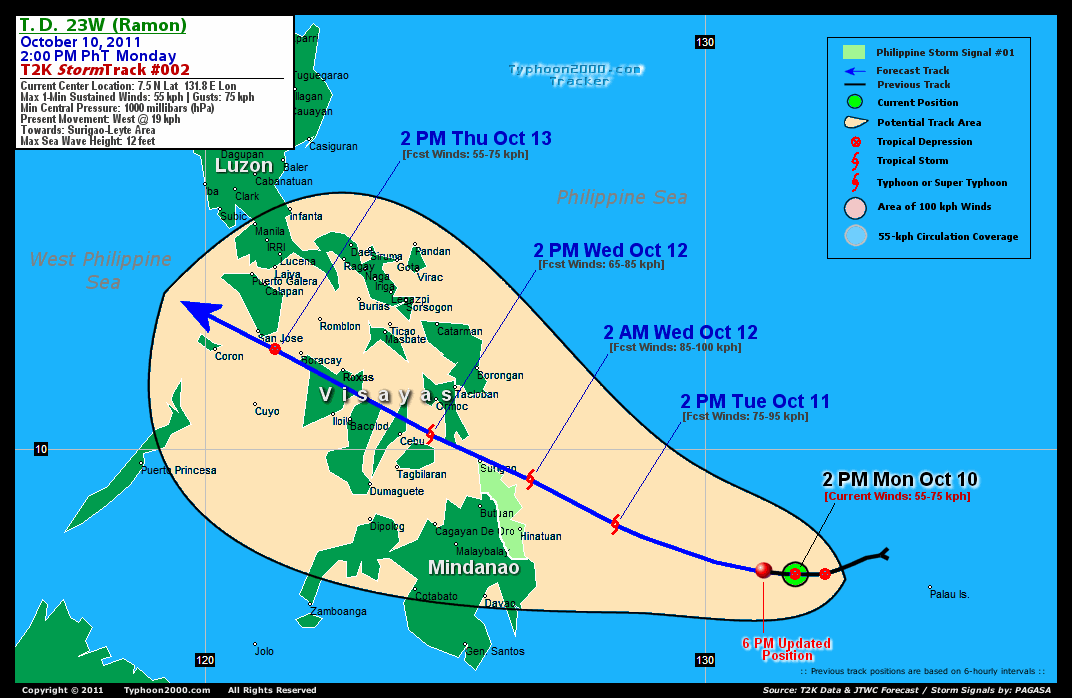 _____________________________________________________________________________

NOTE:
---
Copyright © 2011 Typhoon2000.com     All Rights Reserved
__._,_.___
.
__,_._,___