for Saturday, 05 July 2014 [7:18 PM PhT]
---
WEATHER.COM.PH TROPICAL CYCLONE UPDATES

TYPHOON NEOGURI UPDATE NUMBER 001
Issued at: 6:00 PM PhT (10:00 GMT) Saturday 05 July 2014
Next Update: 6:00 AM PhT (22:00 GMT) Sunday 06 July 2014
---
The powerful and intensifying Typhoon NEOGURI located over the Western Pacific Ocean is set to enter the Philippine Area of Responsibility (PAR) early Sunday morning...not a threat to the country.
This typhoon is likely to enhance the Southwest Monsoon (Hanging Habagat) - bringing cloudy conditions w/ occasional to frequent rains and gusty winds (not exceeding 50 kph) across Western Visayas, Western Mindanao and Western MiMaRoPa.
The threat of flash floods and landslides are likely in hazard-prone areas especially along river banks and mountain slopes of the affected areas. Residents are advised to take necessary precautions.
Residents and visitors along Okinawa, Ryukyus, Taiwan and Southern Japan should closely monitor the development of TY Neoguri.
Information based on data collected by WeatherPhilippines Foundation, Inc. shall not be taken as official data. Weather information broadcasted and distributed by PAGASA remains as official data. WeatherPhilippines shall not be responsible for the private use and reliance of its weather information.

CYCLONE HAZARDS AFFECTING LAND

Below are the regions or places in the Philippines with possible effects caused by the current tropical cyclone.



None.

CURRENT CYCLONE INFORMATION

As of 5:00 PM PhT today...0900 GMT.

Location: Over the easternmost part of the Philippine Sea (near 16.4N 136.2E)
About: 1,415 km south-southeast of Okinawa, Japan...or 1,460 km east-southeast of Palanan, Isabela
Maximum Sustained Winds (1-min avg): 215 kph near the center...Gustiness: 260 kph
24 hr. Rain Accumulation (near and north of the eye): 200 to 400 mm [Extreme]
Size (in diameter): 835 km (Average)
Past Movement: West-Northwest @ 33 kph
Forecast Movement: West-Northwest at 22 kph
Towards: North Philippine Sea-Ryukyus Area

3-DAY FORECAST OUTLOOK*

TY Neoguri is expected to continue moving northwest to west-northwestward during the next 24 hours...with a turn towards the northwest through 48 hours, and north-northwesterly to northerly by 72 hours. On the forecast track, the typhoon will enter the eastern border of the Philippine Area of Responsibility (PAR) by early Sunday morning and move across the northern part of the North Philippine Sea on Monday afternoon. Neoguri will be exiting the northern border of the Philippine Area of Responsibility (PAR) on Tuesday morning...and will be passing very close to the west of Okinawa by Tuesday afternoon.

Neoguri is expected to continue strengthening for the next 48 hours...and could become a Super Typhoon on Sunday afternoon. By 72 hours, the dangerous typhoon may slightly weaken as it enters slightly cooler sea surface temperatures off the East China Sea. Advance Intensity Forecast (AIF) shows its 1-minute maximum sustained winds increasing to 280 kph by Monday afternoon.

The following is the summary of the 3-day forecast outlook on this system:



SUNDAY AFTERNOON: Moving across the North Philippine Sea while gaining more strength...about 1,055 km E of Santa Ana, Cagayan [2PM JUL 06: 18.4N 132.2E @ 250kph].


MONDAY AFTERNOON: Turns towards the NW across the northern part of the North Philippine Sea...about 630 km ENE of Basco, Batanes [2PM JUL 07: 21.3N 128.0E @ 280kph].


TUESDAY AFTERNOON: Turns northerly as it passes over the Ryukyu Islands, outside of PAR...about 50 km W of Naha International Airport, Okinawa [2PM JUL 08: 26.1N 127.2E @ 270kph].

*Please be reminded that the Forecast Outlook changes every 6 hours, and the Day 2 and 3 Forecast Track has an average error of 100 and 250 km respectively...while the wind speed forecast error, averages 35 kph per day. Therefore, a turn to the left or right of its future track and changes in its wind speed must be anticipated from time to time.
Important Note: Please keep in mind that the above hazards summary and forecast outlook changes every 6 to 12 hrs!


---
ADDITIONAL DISTANCES & TECHNICAL INFO

Time/Date: 5:00 PM PhT Sat Jul 05, 2014
Class/Name: TY Neoguri
Minimum Central Pressure: 937 millibars (hPa)
Location of Eye: Near 16.4º N Lat 136.2º E Lon
Distance 1: 1415 km SSE of Okinawa, Japan
Distance 2: 1460 km ESE of Palanan, Isabela
Distance 3: 1490 km ESE of Santa Ana, Cagayan
Distance 4: 1555 km ESE of Basco, Batanes
Distance 5: 1785 km SE of Taipei, Taiwan
Saffir-Simpson Hurricane Scale: Category 4
T2K/WP StormTrack (for Public): GIF
__________________________________________________________________________________________________


CURRENT TRACKING MAP: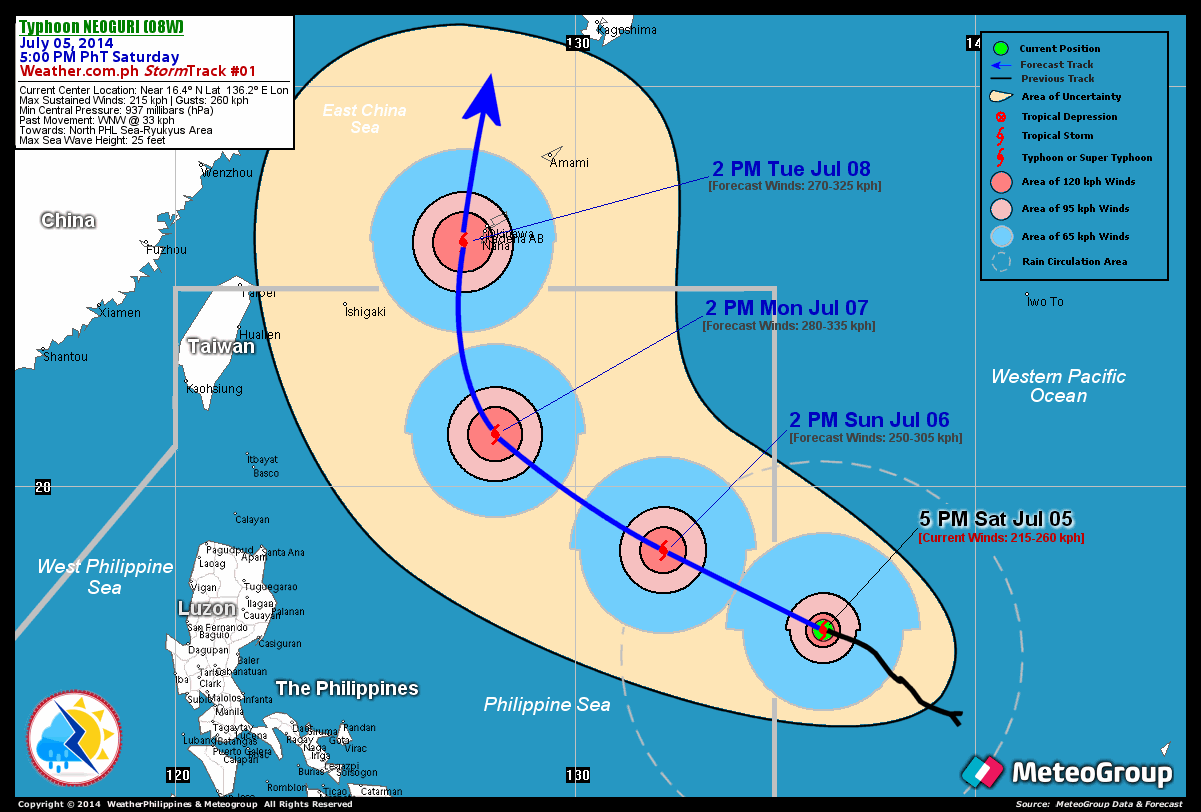 _____________________________________________________________________________


CURRENT UW-CIMSS/MTSAT-2 SATELLITE ANIMATION:
__________________________________________________________________________________________________

CURRENT NOAA/MTSAT-2 INFRARED (IR) SATELLITE IMAGE:


__________________________________________________________________________________________________
NOTE:
---
Copyright © 2014 Typhoon2000.com     All Rights Reserved
__._,_.___
---
Posted by: "Typhoon2000.com (Michael V. Padua)" <T2Kstormupdates@gmail.com>
---
.
__,_._,___