for Sunday, 08 August 2010 [12:43 PM PhT]


---
<<<Typhoon2000.com Mobile >>>

Get the latest 6-hrly SMS Storm Alerts on ESTER!
For more details: Text T2K TYPHOON to
2800 (Globe/TM) | 216 (Smart/TNT) | 2288 (Sun)
*only P2.50 (Smart/Globe) / P2.00 (Sun) per msg received.
powered by:
Synermaxx
---
Typhoon2000 (T2K) NEWS (Sat August 07 2010):



Currently issuing 6-hrly advisiories (except 12 AM PhT) on TD 05W (ESTER).
---
05W (ESTER) MAX WIND SPEED PER AGENCY:



+ USA (JTWC/1-min avg): 45 km/hr
+ Japan (JMA/10-min avg): 55 km/hr
+ Philippines (PAGASA/10-min avg): 55 km/hr
+ Hong Kong (HKO/10-min avg): 45 km/hr
+ Beijing (NMC/2-min avg): 55 kph
---
TROPICAL DEPRESSION 05W [ESTER]
T2K EMAIL ADVISORY NUMBER 004 12:00 PM PhT (04:00 GMT) Sun 08 August 2010Source: T2K Analysis/JTWC Warning #001/SatFix View: Advisory Archives (2004-2010)
---
Tropical Depression 05W (ESTER) slightly intensified as it accelerates slighty to the NE...may pass to the east of Okinawa Island tomorrow.

*Residents and visitors along Taiwan & Yaeyama-Okinawa-Ryukyu Islands should closely monitor the progress of 05W (ESTER).

*Do not use this for life or death decision. This advisory is intended for additional information purposes only. Kindly refer to your country's official weather agency for local warnings, advisories & bulletins.
Current Storm Information

Time/Date: 12:00 PM PhT Sun Aug 08 2010
Location of Center: 22.5º N Lat 125.0º E Lon
Distance 1: 235 km (127 nm) SSE of Ishigaki, Japan
Distance 2: 385 km (208 nm) ESE of Hualien, Taiwan
Distance 3: 390 km (210 nm) NE of Basco, Batanes
Distance 4: 445 km (240 nm) SE of Taipei, Taiwan
Distance 5: 540 km (292 nm) SW of Okinawa, Japan
MaxWinds (1-min avg): 55 kph (30 kts) near the center
Peak Wind Gusts: 75 kph (40 kts)
6-hr Rain Amounts (near the center): 200 mm [Heavy]
Minimum Central Pressure: 1000 millibars (hPa)
Saffir-Simpson Typhoon Scale: Tropical Depression
Present Movement: NE @ 15 kph (08 kts)
Towards: Yaeyama-Ryukyu Islands
Size (in Diameter): 400 km (215 nm) / Average
Max Sea Wave Height (near center): 12 ft (3.6 m)
Coastal Storm Surge Height: 0 feet [0 m]
T2K TrackMap #004 (for Public): 12 PM PhT Sun Aug 08
+ Forecast Outlook: 05W is expected to track NNE to Northward for the next 12 to 24 hours...exiting the Philippine Area of Responsibility (PAR) early tomorrow morning and pass about 155 km East of Okinawa Island around 8 AM tomorrow [8AM AUG 09: 26.3N 126.2E @ 55kph]. The system will reach Tropical Storm status tomorrow evening [8PM AUG 09: 28.4N 126.4E @ 65kph]. The 2 to 4-Day Long-Range Forecast Track shows the system reaching its peak intensity of 75 kph on Tuesday morning [8AM AUG 10: 30.7N 126.4E @ 75kph], passing over the Korean Resort Island of Cheju early Wednesday morning, and will be off the Southern Coast of South Korea before noontime Wednesday [8AM AUG 11: 34.1N 127.0E @ 65kph]. 05W will make landfall around noontime Wednesday and cross South Korea as it transforms into an Extratropical (ET) Cyclone. It will completely reach ET status on Thursday morning over the Sea of Japan [8AM AUG 12: 38.1N 131.4E @ 55kph]. Please be reminded that the Forecast Outlook changes every 6 hours, so a turn to the left or right of its future track and other possibilities must be considered.
+ Effects & Hazards: 05W's circulation has improved slightly as it enters a lower upper-level wind environment (wind shear). Its Southwestern outer bands continues to affect the Extreme Northern Islands of Luzon - moderate to strong winds of up to 40 kph w/ occasional rains can be expected along Calayan, Batanes & Babuyan Islands. Click here to view the latest NOAA-CIRA's Wind Analysis. Residents in low-lying areas & steep slopes must remain alert & seek evacuation for possible life-threatening flash floods, mudslides & landslides due to the anticipated heavy rains brought about by this system. Precautionary measures must be initiated if necessary.
+ Current SW Monsoon Intensity: STRONG >> Mostly cloudy skies with passing moderate to heavy rains can be expected along the following affected areas: NORTHERN-CENTRAL-WESTERN LUZON, METRO MANILA, PALAWAN, CALAMIAN GROUP, MINDORO, WESTERN VISAYAS, MASBATE & WESTERN BICOL. Light to moderate SW winds (not in excess of 55 kph) can be expected along these areas. Large ocean waves of 7 to 8 feet along the beach-front areas of the affected areas are likely to occur today. Possible landslides, mudslides, mudflows (lahars) and life-threatening flash floods are likely to occur along steep mountain/volcanic slopes, river banks, low-lying & flood-prone areas of the affected areas.
+ Tropical Cyclone Watch:

Weak Tropical Disturbance 98W (LPA/1003 MB) almost stationary over the South China Sea, close to Hainan Island. Located near lat 18.0N lon 112.0E...or about 910 km West of Laoag City...with 1-min maximum sustained winds of 25 kph near the center. This system has a 30% chance of becoming a Tropical Cyclone w/in the next 24 to 48 hours.
[Important Note: Please keep in mind that the above forecast outlook, effects, current monsoon intensity, & tropical cyclone watch changes every 6 to 12 hrs!]


---
PAGASA's Philippine Storm Warnings Signals
PHILIPPINE STORM WARNING SIGNAL # ONE (1)


In Effect: BATANES GROUP OF ISLANDS, CALAYAN ISLAND, CAGAYAN, AND BABUYAN ISLANDS.
The above areas will have rains and winds of not more than 60 kph today. Coastal waters will be moderate to rough.

Residents living in low-lying and mountainous areas under Public Storm Warning Signal Number 1 are alerted against flashfloods, mudflows, mudslides and landslides.
---
External Links for TD 05W (ESTER)

View NOAA-CIRA's Latest Wind Analysis
Zoomed Satellite Pic: NOAA's Near Real-Time
JTWC Latest Tracking Chart: wp0510.gif
TSR Wind Probabilities: Current to 96 hrs Ahead

---
JTWC (US NAVY & AIR FORCE) REMARKS:

REMARKS (for Meteorologists)
: 8AM (00 GMT) SUN 08 AUGUST POSITION: 22.2N 124.7E.
*RECENT ANIMATED MULTISPECTRAL
SATELLITE IMAGERY AND A 072123Z 37 GHZ SSMIS MICROWAVE IMAGE
DEPICT TIGHTLY CURVED LOW LEVEL BANDING WRAPPING INTO A PARTIALLY
EXPOSED LOW LEVEL CIRCULATION CENTER (LLCC). A 072229Z SSMIS 37 GHZ
MICROWAVE IMAGE AND A 072308 89 GHZ AMSU MICROWAVE IMAGE REVEAL THAT
A MAJORITY OF THE DEEP CONVECTION IS ALONG THE SOUTHERN SEMI-CIRCLE
OF THE SYSTEM. THIS SYSTEM APPEARS TO HAVE DEVELOPED FROM A BROADER
CIRCULATION WITHIN THE REVERSE MONSOON TROUGH PATTERN. THERE IS FAIR
CONFIDENCE IN THE POSITION BASED ON THE PARTIALLY EXPOSED LLCC AT
00Z. THE CURRENT INTENSITY IS BASED ON DVORAK ESTIMATES FROM PGTW
AND KNES OF 25 TO 30 KNOTS. ANIMATED WATER VAPOR IMAGERY INDICATES
THE SYSTEM HAS EXCELLENT EQUATORWARD OUTFLOW AND IS ALSO
EXPERIENCING ENHANCED POLEWARD OUTFLOW ASSOCIATED WITH A TROPICAL
UPPER TROPOSPHERIC TROUGH (TUTT) CELL OVER JAPAN. UPPER LEVEL
ANALYSIS INDICATES THE SYSTEM HAS INCREASED DIFFLUENCE ALOFT AND IS
EXPERIENCING LIGHT VERTICAL WIND SHEAR (05 TO 10 KNOTS)...(more)

____________
___________________________________________________________________________________________________________________________


RECENT TYPHOON2000 TRACKING CHART
: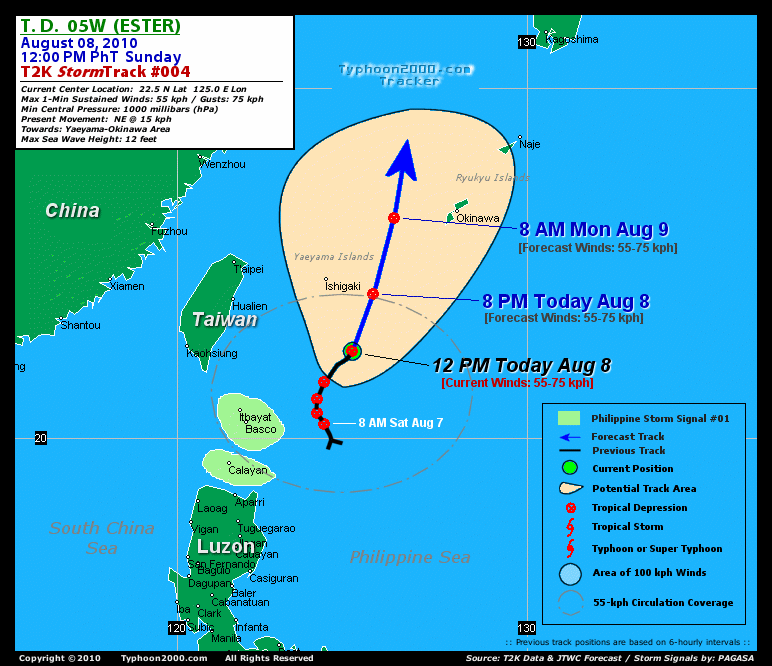 ________________________
_________________________________________________________________________________________
RECENT MTSAT-1R "DAY & NIGHT VISION" SATELLITE IMAGE
:

> Image source: NOAA SATELLITE CENTER
____________________________________________________________________________________________________________________

____________________________________________________________________________________________________________________

NOTE:
* - JTWC commentary remarks (for Meteorologists) from their latest warning.
---
Copyright © 2010 Typhoon2000.com All Rights Reserved
__._,_.___
.
__,_._,___