for Sunday, 30 June 2013 [1:33 AM PhT]
---
WEATHER.COM.PH TROPICAL CYCLONE UPDATES

TROPICAL STORM RUMBIA (GORIO) UPDATE NUMBER 006
Issued: 1:00 AM PhT (17:00 GMT) Sunday 30 June 2013
Next Update: 7:00 AM PhT (23:00 GMT) Sunday 30 June 2013
---
Tropical Storm RUMBIA (GORIO) has rapidly accelerated away from Ragay Gulf and has entered Southern Quezon...moving closer to Metro Manila. Moderate to strong winds with "on-&-off" rains has started to be felt across the Metropolis.
This storm will locally enhance the Southwest Monsoon (Hanging Habagat) and bring windy/cloudy conditions with occasionally slight to moderate to sometimes heavy rains and thunderstorms across Palawan, Western Mindanao and the Visayas today.
Residents and visitors along Southern and Central Luzon including Metro Manila should closely monitor the development of RUMBIA (GORIO).
Do not use this for life or death decision. This update is intended for additional information purposes only. Kindly refer to your national weather agency for official warnings, advisories or bulletins.

CURRENT STORM ANALYSIS

As of 12:00 midnight today, the center of TS Rumbia (Gorio) was located over Southern Quezon, very near Lopez, Quezon...about 86 km east of Lucena City, Quezon or 150 km southeast of Metro Manila...currently moving northwest with an accelerated forward speed of 26 km/hr in the general direction of Quezon-Rizal-Bulacan Area.

Maximum Sustained Winds (1-min. avg) remained at 75 km/hr near the center with higher gusts. Rumbia (Gorio) is an average-sized tropical cyclone with a diameter of 335 kilometers across. The 24-hour rainfall accumulation near the center of Rumbia (Gorio) is estimated to be heavy (250 mm).

3-DAY FORECAST OUTLOOK*

TS Rumbia (Gorio) is expected to continue moving northwest to north-northwest throughout the forecast period. On the forecast track, the core of Rumbia (Gorio) will traverse Rizal and Bulacan this morning, passing about 35 km north-northeast of Metro Manila between 6:00 to 8:00 am today...and will cross Pampanga-Southern Tarlac-Northern Zambales until noon today. Rumbia will then be emerging over the West Philippine Sea this afternoon and could exit the Philippine Area of Responsibility (PAR) by midnight of Monday. It will then make its final landfall along Western Guangdong, very near Macau by midnight of Tuesday. This system will dissipate along the mountains of Southern China on Wednesday.

Rumbia (Gorio) is forecast to gain more strength upon its emergence over the West Philippine Sea and South China Sea within the next 24 to 48 hours.

The following is the summary of the 3-day forecast outlook on this system:



MONDAY MIDNIGHT: Over the West Philippine Sea, moving out of the PAR...about 318 km west of Vigan City, Ilocos Sur [12AM JULY 01: 17.7N 117.4E @ 75kph].


TUESDAY MIDNIGHT: Just along the coast of Western Guangdong (Southern China)...about 45 km southwest of Macau [12AM JULY 02: 21.9N 113.3E @ 85kph].


WEDNESDAY MIDNIGHT: Just an area of low pressure...dissipating over Southern China...about 488 km northwest of Macau [12AM JULY 03: 25.7N 110.7E @ 35kph].

*Please be reminded that the Forecast Outlook changes every 6 hours, and the Day 3 Forecast Track have an average error of 250 km...while the wind speed forecast error, averages 35 kph per day. Therefore, a turn to the left or right of its future track and changes in its wind speed must be anticipated from time to time.

EFFECTS & HAZARDS SUMMARY

Below is the summary of the storm's parts and its hazards affecting specific areas. You can also view this image link for you to understand the parts.



INNER RAINBANDS - spreading across National Capital Region, Southern part of Central Luzon & Southern Tagalog Provinces. Affected Areas: Metro Manila, Bulacan, Rizal, Pampanga, Tarlac, Zambales, & CaLaBaRZon including Polillo Island. Tropical Storm Conditions with Tropical Storm Force Winds (63-95 kph) will be expected along these bands.


OUTER RAINBANDS - spreading across Central & Northern Philippines. Affected Areas: Bicol Region, Northern & Central Luzon, Mindoro, Romblon, Northern Visayas & Calamian Group of Islands. Tropical Depression Conditions with light, moderate to strong winds (30-62 kph) will be expected along these bands (click here to know more about Rainbands).


24HR TOTAL RAINFALL ACCUMULATION - from 5 up to 100 mm (slight to heavy rainfall) can be expected along areas affected by the outer & inner rainbands (see above)...with isolated amounts of 101 to 250 mm (heavy to extreme) along areas to the west, north and near the center of Rumbia (Gorio).
Important Note: Please keep in mind that the above forecast outlook, effects and hazards summary changes every 6 to 12 hrs!

---

CURRENT TECHNICAL INFORMATION

Time/Date: 12:00 MN PhT Sun June 30, 2013
Class/Name: TS Rumbia (Gorio)
Location of Center: 13.9º N Lat 122.3º E Lon
Distance 1: 55 km W of Ragay, CamSur
Distance 2: 68 km WSW of Daet, CamNorte
Distance 3: 86 km E of Lucena City
Distance 4: 100 km SSE of Polillo Island
Distance 5: 103 km WNW of Metro Naga
Distance 6: 120 km SSE of Infanta, Quezon
Distance 7: 150 km SE of Metro Manila
Distance 8: 153 km ESE of Tagaytay City
Distance 9: 176 km NW of Legazpi City
Distance 10: 190 km SE of Malolos City
MaxWinds (1-min avg): 75 kph near the center
Peak Wind Gusts: 95 kph
Present Movement: NW @ 26 kph
Towards: Quezon-Rizal-Bulacan Area
24hr Rainfall Accum (near center): Heavy [250 mm]
Minimum Central Pressure: 993 millibars (hPa)
Size (in Diameter): 335 km [Average]
Max Sea Wave Height (near center): 10 feet
Possible Storm Surge Height: 0 ft (0 m)
T2K/WP StormTracks (for Public): GIF | Google Map (Flash)

CURRENT NOAA/MTSAT-2 INFRARED (IR) SATELLITE IMAGE:
__________________________________________________________________________________________________

CURRENT TRACKING MAP: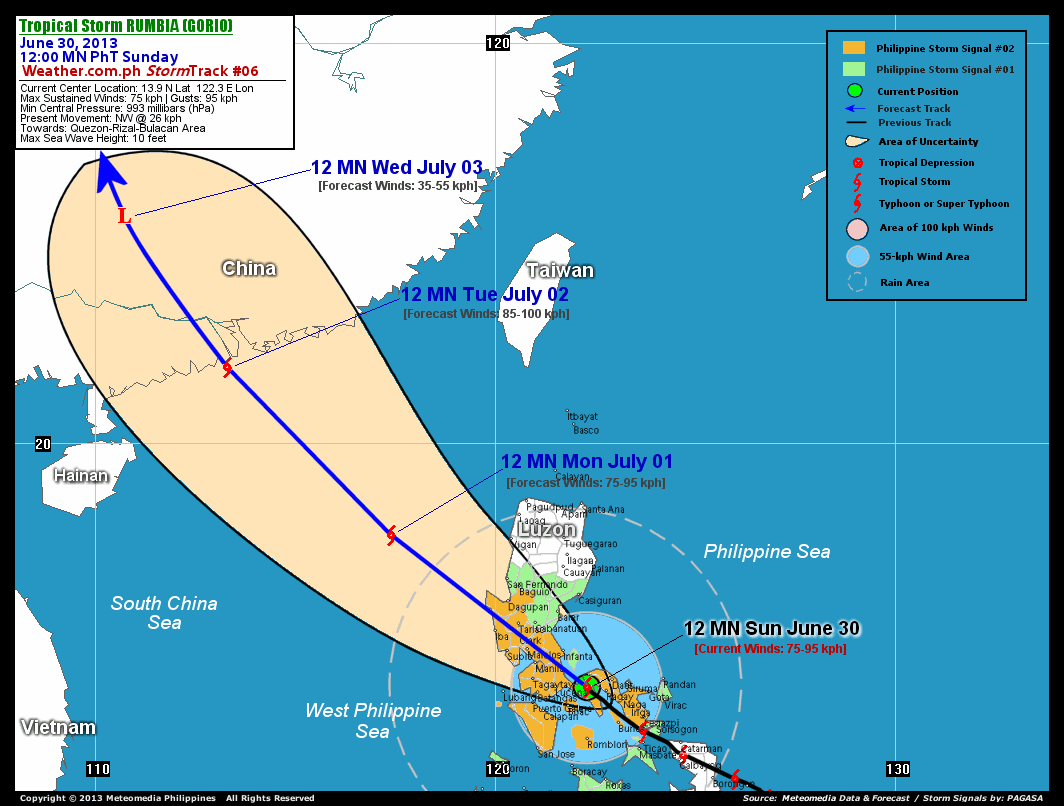 _____________________________________________________________________________
__._,_.___
.
__,_._,___