for Friday, 28 June 2013 [2:56 PM PhT]
---
WEATHER.COM.PH TROPICAL CYCLONE UPDATES

TROPICAL DEPRESSION 06W (GORIO) UPDATE NUMBER 001
Issued: 1:00 PM PhT (05:00 GMT) Friday 28 June 2013
Next Update: 7:00 PM PhT (11:00 GMT) Friday 28 June 2013
---
The strong disturbance (99W) over the Philippine Sea, east of Surigao Del Norte has strengthened into Tropical Depression 06W (GORIO)...threatens Eastern Visayas and Bicol Region with heavy rains this weekend.
Residents and visitors along Visayas, Bicol and Luzon should closely monitor the development of 06W (GORIO).
Do not use this for life or death decision. This update is intended for additional information purposes only. Kindly refer to your national weather agency for official warnings, advisories or bulletins.

CURRENT STORM ANALYSIS

As of 12:00 noon today, the center of TD 06W (Gorio) was located over the southern part of the Philippine Sea...about 363 km east of Surigao City, Surigao del Norte or 439 km southeast of Borongan City, Eastern Samar...currently moving west-northwest with a forward speed of 15 km/hr in the general direction of the Eastern Visayas and Bicol Region.

Maximum Sustained Winds (1-min. avg) are at 45 km/hr near the center with higher gusts. The 24-hour rainfall accumulation near the center of 06W (Gorio) is estimated to be heavy (300 mm).

3-DAY FORECAST OUTLOOK*

TD 06W (Gorio) is expected to move northwest for the next 3 days. On the forecast track, the core of 06W (Gorio) will traverse Samar island Saturday morning...and will be passing along the coastal areas of Sorsogon-Albay-Camarines Sur, cutting across Partido District (Camarines Sur) on Saturday evening until midnight. 06W will then be making landfall over Aurora on Sunday morning and cross Northern Luzon thereafter - passing very close to Baguio City and San Fernando City, La Union on Sunday afternoon. By Monday noontime, the depression will move out of the Philippine Area of Respionsibility (PAR) or over the South China Sea.

06W (Gorio) is forecast to maintain its depression strength due to its interaction with the land mass of Visayas and Luzon. Once the system reaches the West Philippine Sea on Sunday evening, it could become a Tropical Storm (TS).

The following is the summary of the 3-day forecast outlook on this system:



SATURDAY NOON: Over Samar...about 64 km southeast of Catarman, Northern Samar [12PM JUNE 29: 12.2N 125.1E @ 55kph].


SUNDAY NOON: Over Benguet...about 46 km southeast of Baguio City [12PM JUNE 30: 16.1N 120.9E @ 55kph].


MONDAY NOON: Over the South China Sea...exits PAR...becomes a TS...about 849 km east-southeast of Tokyo, Japan [12PM JULY 01: 19.6N 115.7E @ 65kph].

*Please be reminded that the Forecast Outlook changes every 6 hours, and the Day 3 Forecast Track have an average error of 250 km...while the wind speed forecast error, averages 35 kph per day. Therefore, a turn to the left or right of its future track and changes in its wind speed must be anticipated from time to time.

EFFECTS & HAZARDS SUMMARY

Below is the summary of the storm's parts and its hazards affecting specific areas. You can also view this image link for you to understand the parts.



DEVELOPING RAINBANDS - spreading across the southern part of the Philippine Sea, Eastern Visayas, Northeastern Mindanao and Southern Bicol. Affected Areas: Samar, Leyte, Sorsogon, Albay, Catanduanes, Parts of Camarines Sur, Masbate, Caraga, and Bohol. Tropical Depression Conditions with light, moderate to strong winds (30-62 kph) will be expected along these bands (click here to know more about Rainbands).


24HR TOTAL RAINFALL ACCUMULATION - from 5 up to 200 mm (slight to heavy rainfall) can be expected along areas affected by the outer & inner rainbands (see above)...with isolated amounts of 201 to 300 mm (heavy) along areas to the south, west and near the center of 06W (Gorio).
Important Note: Please keep in mind that the above forecast outlook, effects and hazards summary changes every 6 to 12 hrs!

---
CURRENT TECHNICAL INFORMATION
Time/Date:
12:00 NN PhT Fri June 28, 2013
Class/Name:
TD 06W (Gorio)
Location of Center:
9.5º N Lat 128.8º E Lon
Distance 1:
363 km E of Surigao City
Distance 2:
439 km SE of Borongan City
Distance 3:
449 km ESE of Maasin City
Distance 4:
457 km SE of Tacloban City
Distance 5:
652 km SE of Sorsogon City
Distance 6:
677 km SE of Virac, Catanduanes
Distance 7:
691 km SE of Legazpi City
Distance 8:
761 km SE of Metro Naga
Max
Winds
(1-min avg):
45 kph near the center
Peak Wind Gusts:
65 kph
Present Movement:
NW @ 15 kph
Towards:
Eastern Visayas and Bicol Region
24hr Rainfall Accum (near center):
Heavy [300 mm]
Minimum Central Pressure:
1002 millibars (hPa)
Max Sea Wave Height (near center):
6 feet
Possible Storm Surge Height:
0 ft (0 m)
T2K/WP
StormTracks
(for Public):
GIF | Google Map (Flash)

CURRENT NOAA/MTSAT-2 INFRARED (IR) SATELLITE IMAGE:
__________________________________________________________________________________________________

CURRENT TRACKING MAP: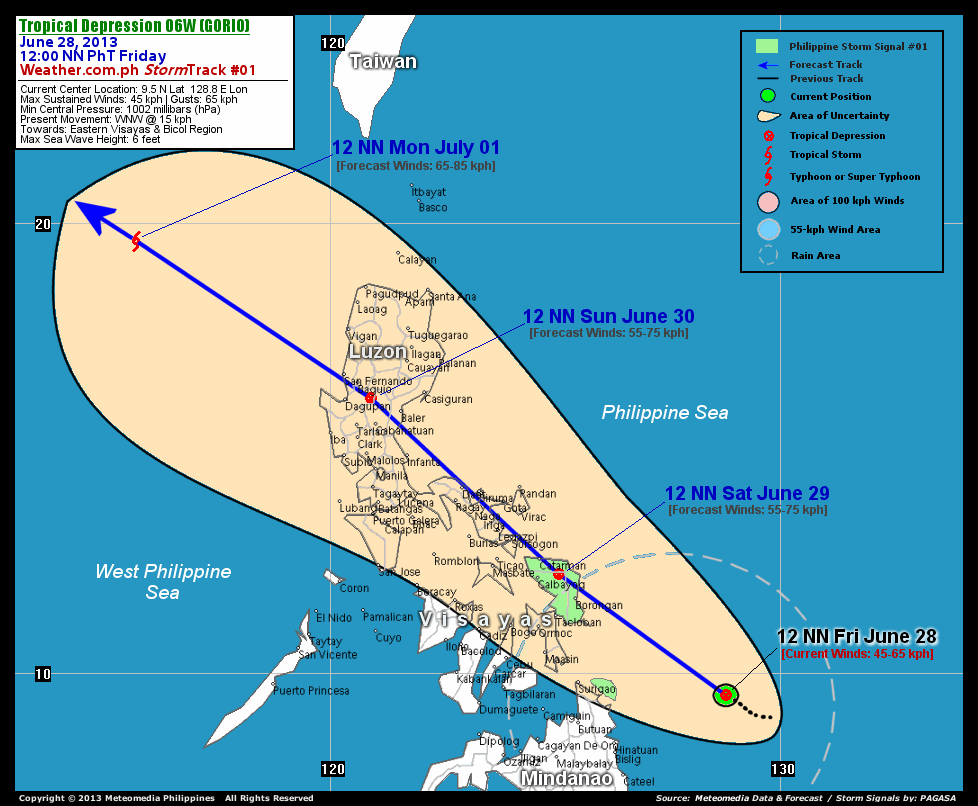 _____________________________________________________________________________
__._,_.___
.
__,_._,___