for Wednesday, 19 June 2013 [7:53 AM PhT]
---
WEATHER.COM.PH TROPICAL CYCLONE UPDATES

TROPICAL STORM LEEPI (EMONG) UPDATE NUMBER 005
Issued: 7:00 AM PhT (23:00 GMT) Wednesday 19 June 2013
Next Update: 1:00 PM PhT (05:00 GMT) Wednesday 19 June 2013
---
Tropical Storm LEEPI [EMONG] has slightly gained strength as it continues to move across the North Philippine Sea towards Okinawa and Ryukyu Islands Area.
This storm will enhance the Southwest Monsoon (Hanging Habagat) and bring windy/cloudy conditions with occasionally slight to moderate to sometimes heavy rains and thunderstorms across Metro Manila, MiMaRoPa, CaLaBaRZON, Visayas, Western Luzon, and Western Bicol today. Flash floods and landslides are likely in hazard-prone areas especially along mountain slopes.
Meanwhile, a new and developing
Tropical Disturbance 94W (LPA)
has been detected over the West Philippine Sea, near the western border of the Philippine Area of Responsibility (PAR). Its weak center was located about 638 km west of Metro Manila (14.0N Lat 115.1E Lon)...with maximum winds of 30 km/hr near the center...almost stationary. This disturbance has a low chance (<30%) of developing into a Tropical Cyclone within the next 24 hours.
Residents and visitors along Okinawa and Ryukyu Islands should closely monitor the development of LEEPI (EMONG).
Do not use this for life or death decision. This update is intended for additional information purposes only. Kindly refer to your national weather agency for official warnings, advisories or bulletins.

CURRENT STORM ANALYSIS

As of 6:00 am today, the center of TS Leepi (Emong) was located over the North Philippine Sea...about 469 km east of Basco, Batanes or 669 km south-southwest of Okinawa, Japan...currently moving north with a decreased forward speed of 19 km/hr in the general direction of Okinawa-Ryukyu Islands Area.

Maximum Sustained Winds (1-min. avg) have increased to 75 km/hr near the center with higher gusts. Leepi (Emong) is a very large-sized tropical cyclone with a diameter of 935 kilometers across. The 24-hour rainfall accumulation near the center of Leepi (Emong) is estimated to be heavy (220 mm).

3-DAY FORECAST OUTLOOK*

TS Leepi (Emong) is expected to accelerate more to the north-northeast to northeast during the next 24 to 48 hours...with a turn to the east-northeast through 72 hours. On the forecast track, the core of Leepi (Emong) will exit the Philippine Area of Responsibility (PAR) tonight...and pass close to the west of Okinawa and the Ryukyu Islands on Thursday morning...and move near the coast of Southern Japan (Kyushu-Shikoku-Honshu) on Thursday evening through Friday evening. On Saturday morning, the storm will be over the open seas of the Northwest Pacific Ocean.

Leepi (Emong) is forecast to continue intensifying during the next 24 hours...reaching its highest wind intensity of 85 km/hr on Thursday. On Saturday, the storm is likely to start losing strength.

The following is the summary of the 3-day forecast outlook on this system:



THURSDAY MORNING: Continues to intensify as it turns north-northeast to northeast, passing close to Okinawa and the Ryukyus...about 100 km west-northwest of Okinawa, Japan [6AM JUNE 20: 26.9N 126.9E @ 85kph].


FRIDAY MORNING: At peak intensity while passing to the south of Southern Shikoku...about 282 km south-southeast of Kochi, Japan [6AM JUNE 21: 31.1N 134.1E @ 85kph].


SATURDAY MORNING: Starts to weaken as it rapidly accelerate across the open seas of the Northwest Pacific...about 755 km east-southeast of Tokyo, Japan [6AM JUNE 22: 34.6N 147.9E @ 75kph].

EFFECTS & HAZARDS SUMMARY

Below is the summary of the storm's parts and its hazards affecting specific areas. You can also view this image link for you to understand the parts.



ELONGATED RAINBANDS - over water (North Philippine Sea). Affected Areas: Ishigaki-Jima. Tropical Depression Conditions with light, moderate to strong winds (30-60 kph) will be expected along these bands (click here to know more about Rainbands).


24HR TOTAL RAINFALL ACCUMULATION - from 5 up to 100 mm (slight to heavy rainfall) can be expected along areas affected by the outer & inner rainbands (see above)...with isolated amounts of 101 to 220 mm (heavy) along areas to the north and south of Leepi (Emong).
Important Note: Please keep in mind that the above forecast outlook, effects and hazards summary changes every 6 to 12 hrs!

---

CURRENT TECHNICAL INFORMATION

Time/Date: 6:00 AM PhT Wed June 19, 2013
Class/Name: TS Leepi (Emong)
Location of Center: 20.6º N Lat 126.5º E Lon
Distance 1: 469 km E of Basco, Batanes
Distance 2: 489 km E of Itbayat, Batanes
Distance 3: 499 km SSE of Ishigaki-Jima
Distance 4: 507 km NE of Santa Ana, Cagayan
Distance 5: 630 km SE of Hualien, Taiwan
Distance 6: 669 km SSW of Okinawa, Japan
Distance 7: 701 km SE of Taipei, Taiwan
MaxWinds (1-min avg): 75 kph near the center
Peak Wind Gusts: 95 kph
Present Movement: North @ 19 kph
Towards: Okinawa-Ryukyu Islands
24hr Rainfall Accum (near center): Heavy [220 mm]
Minimum Central Pressure: 993 millibars (hPa)
Size (in Diameter): 935 km [Very Large]
Max Sea Wave Height (near center): 14 feet
Possible Storm Surge Height: 0 ft (0 m)
T2K/WP StormTracks (for Public): GIF | Google Map (Flash)

CURRENT NOAA/MTSAT-2 INFRARED (IR) SATELLITE IMAGE:
__________________________________________________________________________________________________

CURRENT TRACKING MAP: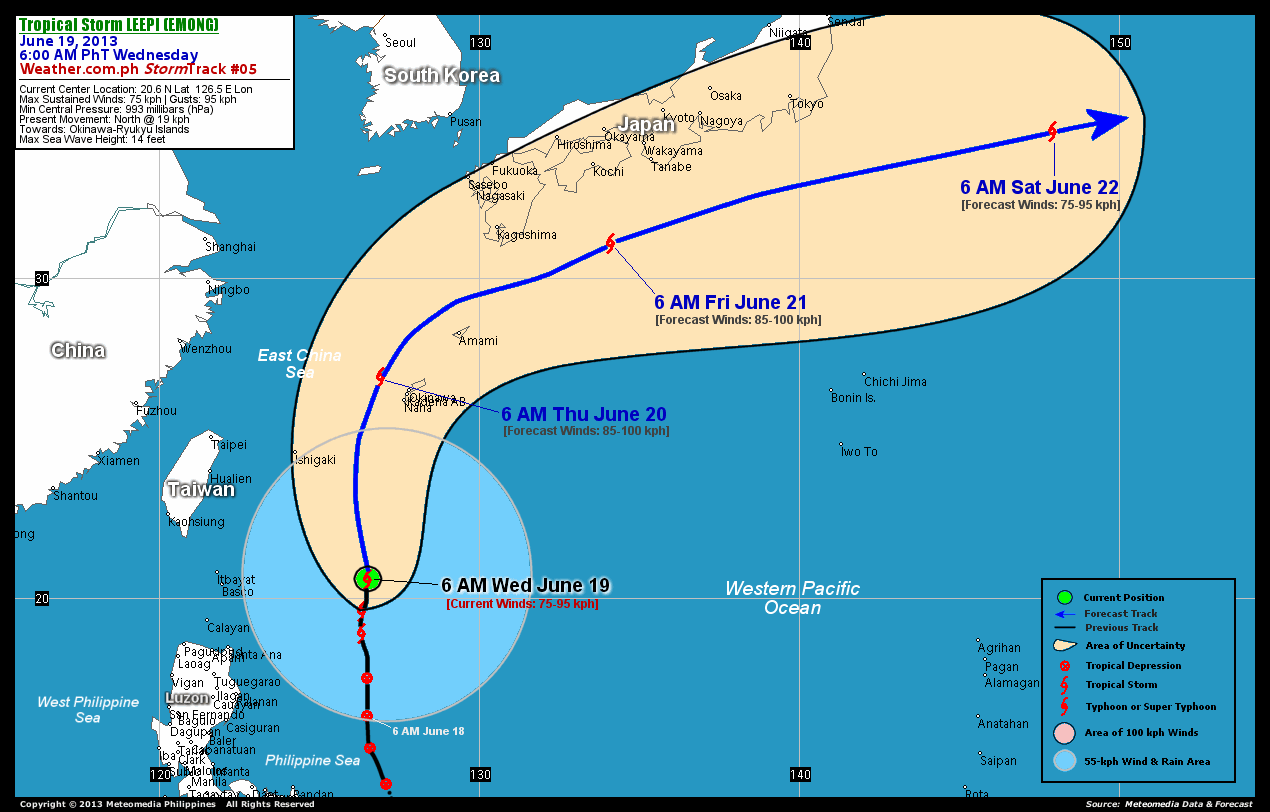 _____________________________________________________________________________
__._,_.___
.
__,_._,___