for Wednesday, 06 November 2013 [1:32 PM PhT]
---
WEATHER.COM.PH TROPICAL CYCLONE UPDATES

SUPER TYPHOON HAIYAN UPDATE NUMBER 005
Issued at: 12:00 NN PhT (04:00 GMT) Wednesday 06 November 2013
Next Update: 6:00 PM PhT (10:00 GMT) Wednesday 06 November 2013
---
HAIYAN becomes a dangerous Super Typhoon (STY) as it rapidly gained strength...continues to pose a serious threat to Eastern Visayas and Northeastern Mindanao. The potential landfall area of this super typhoon remains along the Samar-Leyte Area on or before
Friday noon, November 08
.
This typhoon is similar in track and strength of Super Typhoon MIKE (RUPING) which passed across the Visayas in November of 1991 and devastated much of Metro Cebu.

Residents living along the eastern seaboards of the Philippines from Northern Quezon...Bicol Region...down to Northeastern Mindanao should closely monitor the approach of this potentially destructive typhoon. Plans for emergency situations and/or disaster management planning must be implemented beginning today as the storm is only 3 days away from hitting land.
Meanwhile,
Tropical Depression 30W (WILMA)
continues to move closer to the coast of Southern Vietnam. As of 11:00 am today, its center was estimated about
225 km ESE of Nha Trang, Vietnam (near 11.8N 111.2E) with maximum winds of 55 kph near the center, and was moving westward at 28 kph towards Southern Vietnam.
Residents and visitors along Northeastern Mindanao, Visayas, Bicol Region and Eastern Luzon should closely monitor the development of Haiyan.
Do not use this for life or death decisions. This update is intended for additional information purposes only. Kindly refer to your national weather agency for official warnings, advisories or bulletins.

CURRENT STORM ANALYSIS

As of 11:00 am today, the eye of STY Haiyan was located over the western part of the Caroline Islands...about 235 km south-southeast of Colonia, Yap (FSM) or 1,540 km east-southeast of Borongan City, Samar, Philippines...currently moving quickly west-northwest with a forward speed of 33 km/hr towards Yap-Palau Area.

Maximum Sustained Winds (1-min. avg) have rapidly increased to 240 km/hr near the center with higher gusts. Typhoon Force Winds (118 km/hr or more) extend outward up to 65 kilometers from the center...and Tropical Storm Force Winds (63-117 km/hr) extend outward up to 195 kilometers from the center. STY Haiyan remains a small-sized tropical cyclone with a diameter of 555 kilometers across.

2-DAY FORECAST OUTLOOK*

STY Haiyan is expected to move in a generally straight, west-northwest track throughout the forecast period. On the forecast track, the core of STY Haiyan will be passing in between the islands of Yap and Palau by Wednesday afternoon and evening...and will enter the Philippine Area of Responsibility (PAR) during the early morning hours of Thursday...and move across the South Philippine Sea. By Friday morning, Haiyan will be at near landfall, approaching the shores of Southern Samar and Eastern Leyte.

STY Haiyan will continue to rapidly intensify within the next 24 hours as the system moves over the warmer sea surface temperatures of the Philippine Sea...and could become an extremely dangerous Category 5 STY on Thursday morning. Advance Intensity Forecast (AIF) shows its 1-minute maximum sustained winds increasing to 270 km/hr between the evening of Wednesday through Thursday evening.

The following is the summary of the 2-day forecast outlook and an extended 3-day forecast on this system:



THURSDAY MORNING: Over the northeastern portion of South Philippine Sea at Category 5 strength after crossing P.A.R....about 225 km northwest of Koror, Palau [8AM NOV 07: 9.0N 133.4E @ 270kph].


FRIDAY MORNING: Weakens slightly to Category 4...as it prepares to make landfall over Southern Samar...about 155 km southeast of Borongan City, Eastern Samar [8AM NOV 08: 11.0N 126.7E @ 240kph].


SATURDAY MORNING: Moving across the West Philippine Sea after traversing Mindoro Strait...weakens further to Category 3...about 160 km northwest of Coron, Palawan [8AM NOV 09: 12.8N 119.0E @ 205kph].

*Please be reminded that the Forecast Outlook changes every 6 hours, and the Day 2 and 3 Forecast Track has an average error of 100 and 250 km respectively...while the wind speed forecast error, averages 35 kph per day. Therefore, a turn to the left or right of its future track and changes in its wind speed must be anticipated from time to time.

EFFECTS & HAZARDS SUMMARY

Below is the summary of the storm's parts and its hazards affecting specific areas. You can also view this image link for you to understand the parts.



11-KM PINHOLE EYE - over water. Possible calm and lull conditions (with <20 kph winds) will be expected inside the eye (click here to know more about the EYE).


EYEWALL - where Typhoon Conditions with Typhoon Force Winds (>118 kph) will be expected within this wall. Affected Areas: None (click here to know more about the Eyewall).


INNER RAINBANDS - where Tropical Storm Conditions with Tropical Storm Force Winds (63-100 kph) will be expected. Affected Areas: Yap State (Federated States of Micronesia).


OUTER RAINBANDS - where Tropical Depression Conditions with light, moderate to strong winds (30-62 kph) will be expected. Affected Areas: Republic of Palau (click here to know more about Rainbands).


24HR TOTAL RAINFALL ACCUMULATION - from 5 up to 100 mm (slight to heavy rainfall) can be expected along areas affected by the outer & inner rainbands (see above)...with isolated amounts of 101 to 210 mm (heavy) along areas near the center of Haiyan.
Important Note: Please keep in mind that the above forecast outlook, effects and hazards summary changes every 6 to 12 hrs!

---

CURRENT TECHNICAL INFORMATION

Time/Date: 11:00 AM PhT Wed Nov 06, 2013
Class/Name: STY Haiyan (31W)
Location of Eye: Near 7.5º N Lat 138.8º E Lon
Distance 1: 235 km SSE of Yap State
Distance 2: 410 km E of P.A.R.
Distance 3: 475 km NW of Republic of Palau
Distance 4: 1540 km ESE of Borongan City
Distance 5: 1570 km ESE of Tacloban City
MaxWinds (1-min avg): 240 kph near the center
Peak Wind Gusts: 295 kph
Saffir-Simpson Hurricane Scale: Category 4
Present Movement: WNW @ 33 kph
Towards: Yap-Palau Area
CPA [ETA] to Samar-Leyte: Friday Morning [between 10AM-12NN PhT]
Minimum Central Pressure: 926 millibars (hPa)
T2K/WP StormTracks (for Public): GIF | Google Map (Flash)
__________________________________________________________________________________________________


CURRENT TRACKING MAP: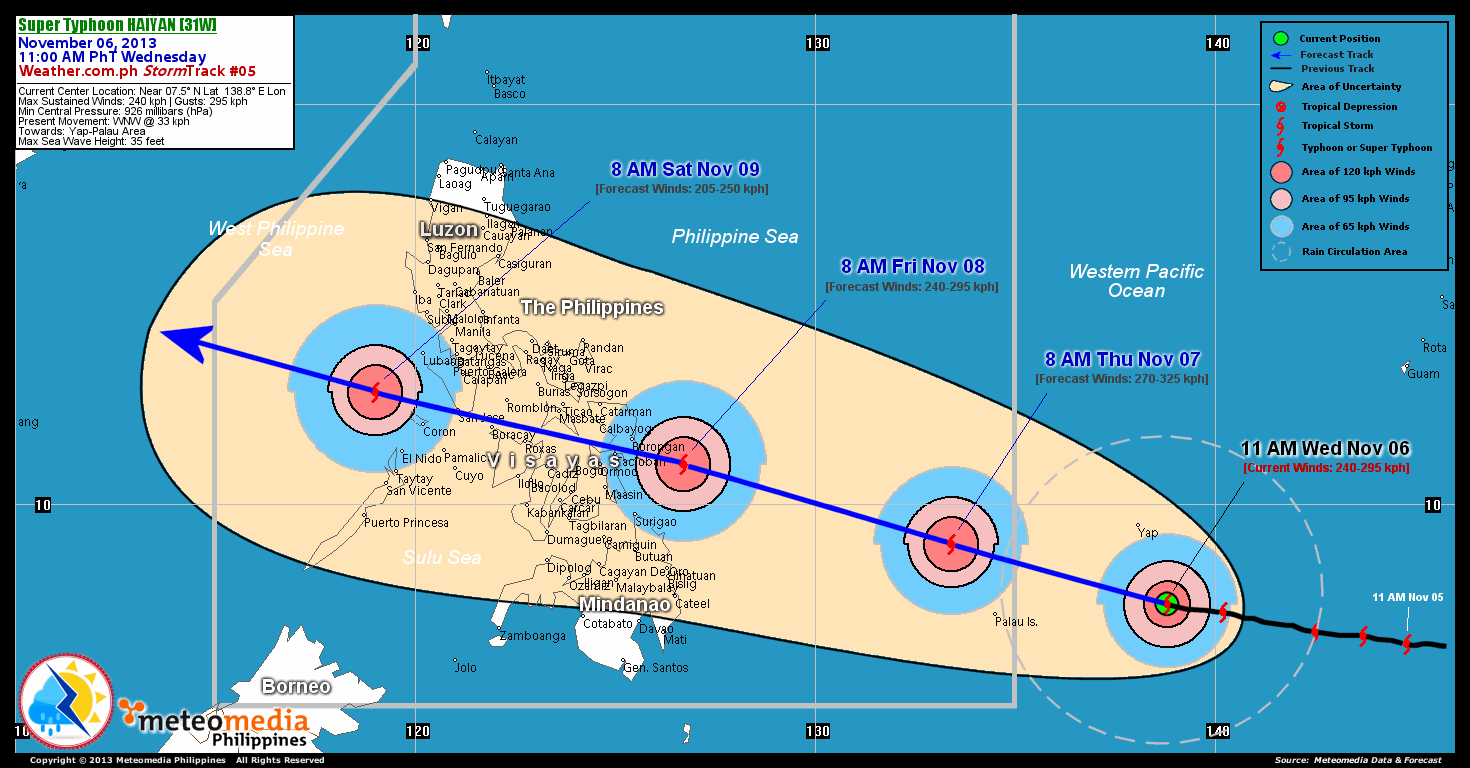 _____________________________________________________________________________


CURRENT UW-CIMSS / MTSAT-2 SATELLITE ANIMATION:
__________________________________________________________________________________________________

CURRENT NOAA/MTSAT-2 INFRARED (IR) SATELLITE IMAGE:

__________________________________________________________________________________________________
NOTE:
__________________________________________________________________________________________
<<<Typhoon2000.com Mobile >>>
Get the latest SMS Storm Alerts!
For more details: Text T2K TYPHOON to
2800 (Globe/TM) | Offline (Smart/TNT) | 2288 (Sun)
*Only P2.50 (Smart/Globe) / P2.00 (Sun) per msg received.
Click here on how to use this service (in PDF file)
Powered by: Synermaxx Corporation


---
Copyright © 2013 Typhoon2000.com     All Rights Reserved
__._,_.___
.
__,_._,___